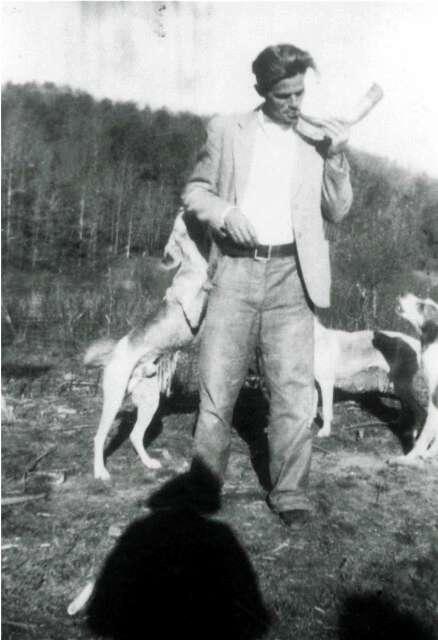 Papaw Wade (Pap's father) was a wood cutter-and I'm not saying that lightly-he lived to cut wood-and cutting wood made his living. When he started out he was old school-using a cross cut saw to bring down timber.
Once those new fangled contraptions called chainsaws made their way into the mountains everyone could see the ease and speed at which you could cut wood with them. But seeing the writing on the wall never makes it any easier to come up with the money it takes to buy an easier way of life.
Papaw and Virgil Dockey had been cutting pine wood with a cross cut saw together. As they studied and figured on the issue at hand-whether to buy a chainsaw or not-they came to the conclusion that buying one would not only make their livelihood easier-it would allow them to make a bigger profit as well. In the end, the two decided they'd split the cost and buy a chainsaw.
Pap said talk of the chainsaw and what it meant-kept both families at a heightened state of excitement-especially the wives.
Finally the day of the big purchase arrived. Papaw and Virgil pledged $200 for the saw at the old Smith Store and then brought it home to show the children and wives. Virgil took it home with him and put it on the front porch in anticipation of all the work that would be accomplished on the coming day.
During the night a thunderstorm blew up and as bad luck would have it-lighting struck the chainsaw-and literally blew it to pieces.
The following day Virgil came into Papaw's yard hanging his head saying "we're ruin't we're ruin't." Pap said you never saw such a sad bunch of folks-even the children recognized the devastation of loosing the chainsaw that was bought on time-knowing payment would still be required no matter that Mother Nature had played a cruel trick on them.
After much hand wringing Papaw and Virgil decided there was only one thing left to do-take the saw back and see if they could at least sell it back to Smiths for parts.
Oh happy day! When they arrived at the store they discovered they had unknowingly bought insurance along with the credit plan. They picked up a new saw and headed for home.
Pap said the families rejoiced and everyone made sure the chainsaw was never left outside at night again.
——————-
Papaw Wade has been gone for close to 20 years. Every time I smell sawdust-or fresh cut wood I think of him-those were his smells. It always makes me feel like-if I turn around quick enough I'll see him standing there in his overalls-with his hat brim turned straight up and his eyes twinkling at me.
Tipper