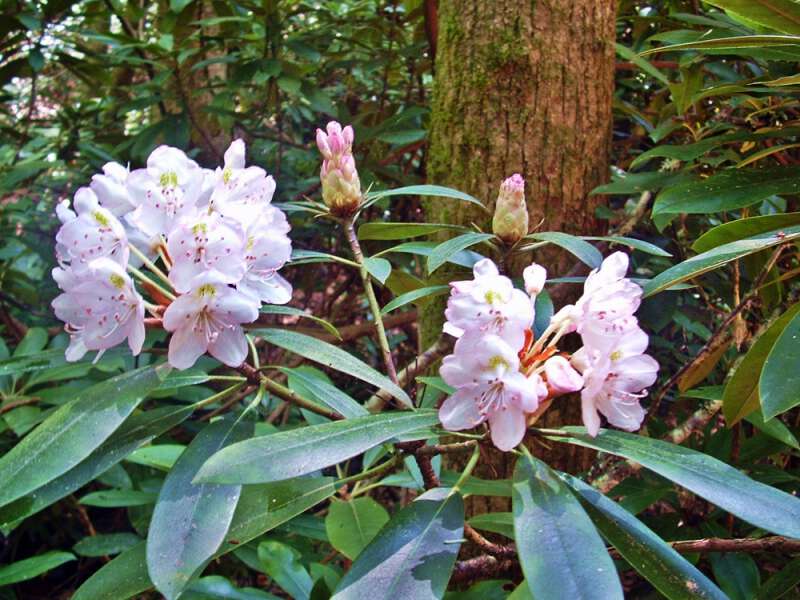 Mountain Laurel (Rhododendron) is now in full bloom around my house the bees and bugs are having a hay day-enjoying all the stickiness of each bloom.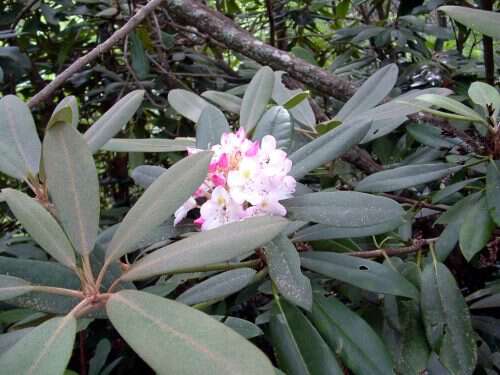 The leaves of the Mountain Laurel are long and narrow-sword shaped. If you ever have a campfire near a Laurel-take a few leaves and throw them in the fire-you'll be rewarded with lots of popping-Chitter and Chatter take every opportunity to 'pop' the fire.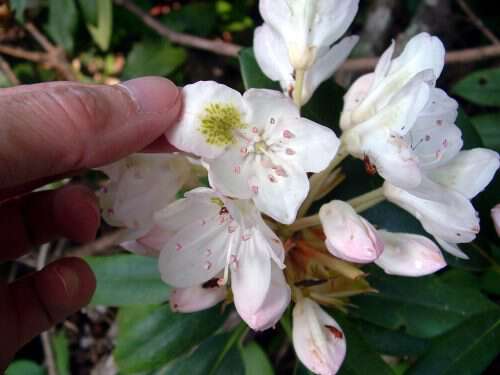 The blooms around my house range from pink to white. Deeper pinks and purple blooms can be found in other areas of Appalachia.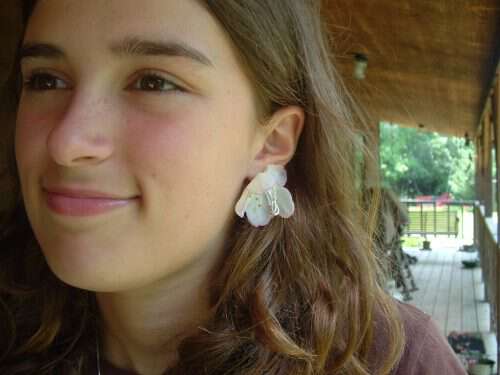 The stickiness of the blooms makes them 'stick on' jewelry. Earrings, bracelets, necklaces-and of course a corsage for the Summer Ball are all made perfect by using the blooms of the Mountain Laurel.
Some of you may be saying-that isn't really Mountain Laurel-it's Rhododendron. If you click here you can read about why I call it Mountain Laurel.
After I published the piece about Mountain Laurel being Ivy-and Rhododendron being Mountain Laurel-a friend, Jay Henderson, gave me some 'proof' that folks who call Mountain Laurel Ivy are actually right. See what he said:
Newcomers to the mountains often are perplexed about two matters – first, why are there so many trout streams named "Laurel?" Weren't there enough names to go around? Second, where is the laurel on these "Laurels?" Is it somewhere behind all of the rhododendron? The second question is easy to answer. What the flatlanders call "rhododendron" is widely known in southern Appalachia as "laurel." The Kalmia latifolia shrubs known on the coast as laurel are called in Appalachia "mountain laurel" or "ivy."
This usage of "ivy" was once so common that it was a dictionary definition. It is so listed twice in the venerable Webster's New International Dictionary (Merriam-Webster, 1913), under "ivy" (definition 3) and "ivy tree," in both cases with the notation "Southern U.S." In Patrick County, Virginia, where "mountain laurel" is still called "ivy," Big Ivy Creek and Little Ivy Creek are named for the great stands of Kalmia latifolia that exist in this watershed. I don't mind the name "rhododendron," personally, but "laurel" is easier to spell. "Laurel hell" derives from a Scotch-Irish usage — Scottish-English "hell" or something close to it meaning (among other things) something like tangle or thicket of brush.
Looks like Ivy is one of those words that retained it's original meaning due to the isolated nature of certain regions of Appalachia.
On Saturday the whole Blind Pig family crawled and fought their way through a Laurel Hell-all to find Olive-and thank goodness we found her. (sorry if you're getting tired of the teases about Olive-it's just that I can't wait to tell you about her)
Ever wore Mountain Laurel jewelry or made a fire 'pop' with their leaves?
Tipper