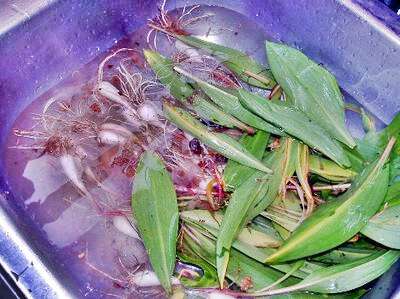 ramp noun A wild leek (Allium tricoccum) having a pungent taste and smell. Considered a delicacy by some, it is celebrated each spring in the Ramp Festival held near Crosby TN. It is sometimes eaten for its tonic effect.
Dictionary of Smoky Mountain English
————————-
Ramps have a garlicy onion taste-only with a more intense flavor and smell. Generally they can be found at higher elevations on the north side of mountain ridges from South Carolina all the way to Canada.
In Appalachia, ramp hunting in the spring takes on a celebratory air. Crosby TN isn't the only place hosting annual Ramp Festivals. You can find them throughout the mountains. Murphy has hosted one for several years.
In our immediate area there aren't many if any ramp patches because we live slightly below the elevation they are usually found. The patches in the higher areas are kept top secret by the people who know where they're at.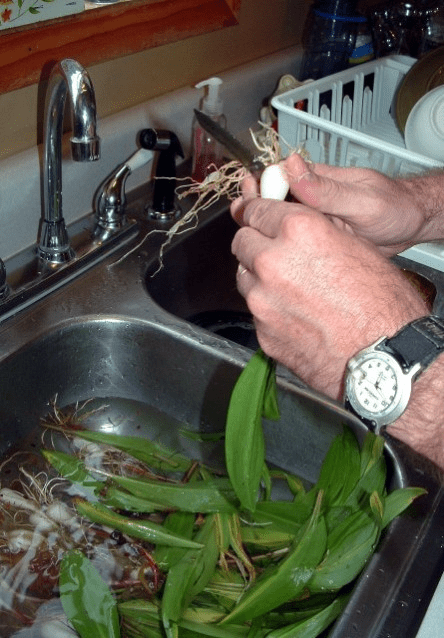 When The Deer Hunter was young, Papaw Tony and him went camping every weekend during the spring to trout fish, ride horses, and dig ramps. I can't remember Granny and Pap ever eating ramps. I do recall people at school complaining about the smell of kids whose family partook of ramps in a large fashion.
The whole ramp is edible although folks typically use the lower stem and bulb. The growing season is short, but you can freeze them for later use.
I've read you can use ramps in any recipe that calls for onion or garlic, but the most common way to eat them in Appalachia is fried with potatoes. Folk also like to eat them raw or scrambled with eggs.
Be sure to drop back by next Monday for a story about eating ramps from Charles Fletcher.
Tipper