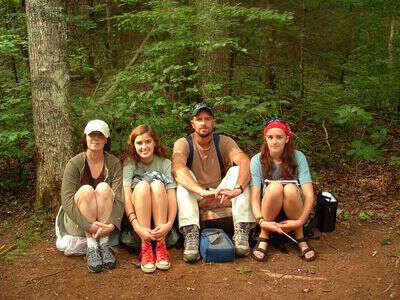 Last Sunday, The Blind Pig Family went to Hazel Creek. During the summer months The North Shore Cemetery Association organizes Decorations for each of the cemeteries along the North Shore of Fontana Lake. (to find out more about their great organization-click on their name)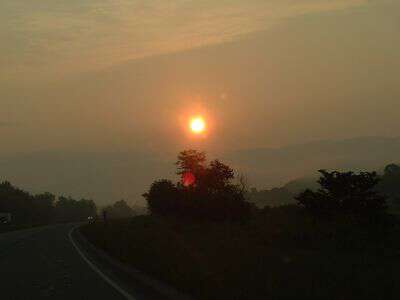 As we headed towards Andrews early that morning-there was a beautiful sunrise.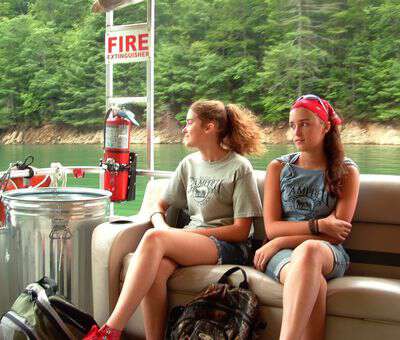 Since Hazel Creek is most easily accessible by boat-there were boat rides to enjoy.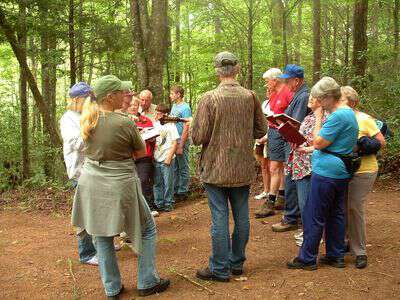 There was a simple service. Singing hymns in a cemetery is always a moving experience if you ask me.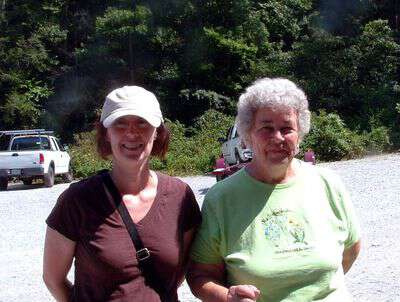 There was time spent with my good friend Mildred Johnson.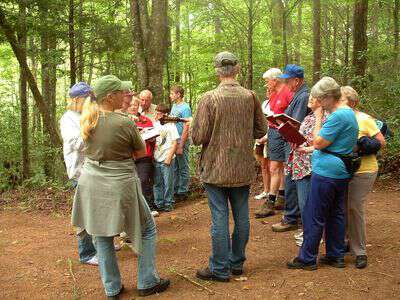 And just like the Decorations of my youth-there was a table loaded down with delicious food.
We visited the Higdon Cemetery and the McCampbell Gap Cemetery (also referred to as the Wilson Family). Both were smaller than the other cemeteries I've been to on Hazel Creek. The first time I ever visited a cemetery on Hazel Creek-I wondered at the new headstones that had been placed in front of some of the old rock ones.
Not long after that first trip, I was told the reason for the new headstones. Every year the number of people who actually lived on Hazel Creek is becoming smaller and smaller. It's very important to them-that the graves are marked so future generations will know who has been lain to rest where. Who buys the stones and places them? The North Shore Cemetery Association-and they do it by donations. Donations of money to buy the stones-donations of time from a person who's willing to take them over and set them.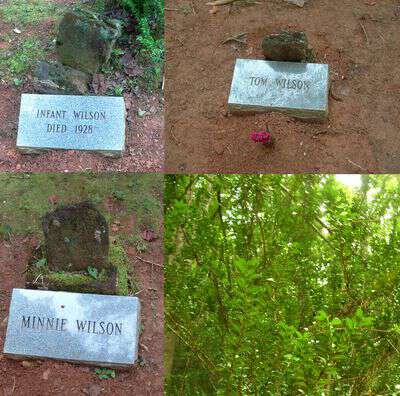 A few things I especially enjoyed about the trip: At the Higdon Cemetery I discovered 3 Wilson graves all in a row-Tom, Minnie, and an Infant. Are they related to Pap? I don't know.
There was a boxwood at the head of the infant grave-kinda spindly and tall but still quite healthy looking. I wondered if it was planted for the baby? I wondered if it was planted by Tom or Minnie?

At the same cemetery there was one grave off to the side by itself. You can see it above-the stone simply says "A Black Man". I don't know if I was being overly emotional on Sunday or what-but as soon as I saw the marker tears sprang from my eyes. I felt sadness for a man who was buried without anyone recording his name. I felt gratitude towards the North Shore Folks for giving him a marker too.
I don't have any photos of the McCampbell Gap Cemetery. My camera doesn't do well in low light areas-like woods. But even if I had a better camera-I'm almost positive I couldn't have captured the feel of the cemetery. Most all old cemeteries in the area are on ridge tops. Even though the folks doing the burying were heartbroken with loss-their common sense urged them to save the bottom land for crops.
There were only a few graves in the cemetery. The folks who've been before-and are quite knowledgeable about the area-couldn't recall for sure how many there should have been-the numbers thrown around were between 4 and 8 (there were no new markers). The walk up was steep-steep enough to weed out most of the folks from the first cemetery we visited. On the way up we passed an obvious house place-the chimney and foundation partially still intact but mostly fell to the side.
As we walked up the final stretch-I was surprised to see how small-how narrow-how tightly perched on the ridge the cemetery was. But my surprise was soon replaced by a feeling of home. Oh I have no relatives who were buried there-no loved ones who had to leave their homeland for the better good of society. As far as I know I have no family members who were even remotely connected to Hazel Creek.
Yet I know beyond a shadow of a doubt-those were my people. They were the kind of people who said "come go home with me" or "don't rush off you ought to just spend the night."
The language of those people still springs forth from my lips and I hope it will also spring forth from the lips of my children and my grandchildren. The echoes of the lives they made with their own hands still rings in my ears.
Tipper