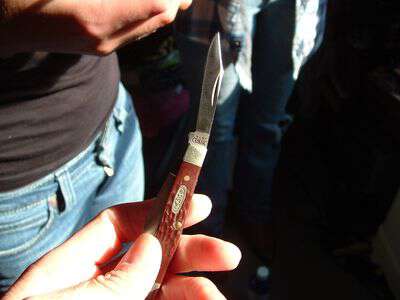 I've been around pocket knives my entire life-Case, Buck, Old Timers, etc. Pap says he feels naked without his knife in his pocket-The Deer Hunter feels the same-as do Chitter and Chatter. And even I carry a pocket knife in my pocketbook-The Deer Hunter bought it for me back in the day when we were still dating.
Somewhere laying along the studs inside a wall in one of the back bedrooms at Granny and Pap's is a bone handled Case knife. When Pap was building the house he did all the work-from the foundation up. As he was sheetrocking the back bedroom-he closed up his knife in the wall. That's been over 30 years ago-the knife is still there.
Recently I learned something new about knives. More times than I can count-I've seen men stand around and admire someone's new knife. I've noticed after the looking is done-the knife is handed back to the owner-still open. I figured it was a sign of respect-you know-"I'll let you shut it to make sure I don't mess it up" thing.
I was wrong. The Deer Hunter enlightened me: Whoever opens the knife must also shut the knife or it's bad luck. Who knew?
Tipper
Appalachia Through My Eyes – A series of photographs from my life in Southern Appalachia.