Today's post was written by Chitter.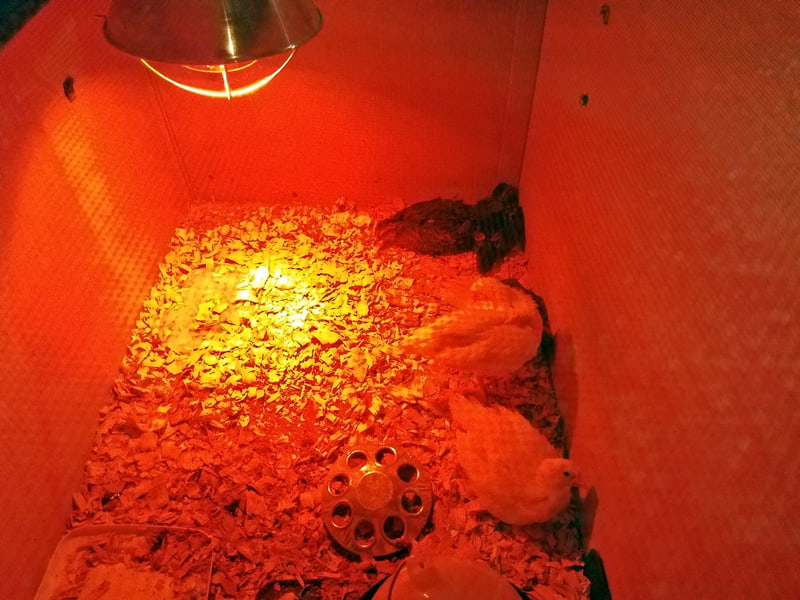 Growing chicks
As you know I've been raising six small chickens in our basement. It has been almost a month now, hard to believe how big they've gotten!
I have four brown chicks and two yellow ones. About a week ago I noticed the smallest brown one could not walk well. I was afraid she'd somehow broken her leg and that there was nothing I could do.
I was worried the chick was in pain so we started researching and luckily we found an answer.
Since this chick was fine for the first week or so I suspected one of the others was probably playing a little too rough and the littlest one got hurt. Turns out she had something called spraddle leg or splayed legs. This condition can happen to chicks standing on slippery surfaces when they're small, causing their legs to repeatedly fall out from under them and dislocate their hips. Or it can happen as they hatch.
I learned that because a chicken's tissue and ligaments grow so fast as they mature, it can be reversed.
After watching a video on Youtube, I put a brace on her legs (a band-aid cut in half long ways), said a little prayer, and hoped for the best. I isolated her and a buddy in a box in my room so that she could heal. For several days all I heard was "chirp chirp chirp" and I didn't sleep much. 
The idea is that tying the two legs together will force them to be straight allowing the ligaments to tighten up in the right position.
I woke up one morning and the band-aid had fallen off, and the chick was walking like normal. Boy was I glad! I re-introduced her and her buddy to the others, and it was as if nothing had ever happened. 
The chicks get wilder by the day. I expect we'll have to move them to the chicken pen within the week.
Chitter
Subscribe for FREE and get a daily dose of Appalachia in your inbox