Back in December, Don Casada was in England working when he met Jeanne Page. They got to talking about gardening and Jeanne shared the most interesting way of preserving green beans. Don got her and I in touch with each other and Jeanne was gracious enough to write a guest post for me-and for you-detailing the manner in which her family preserves green beans.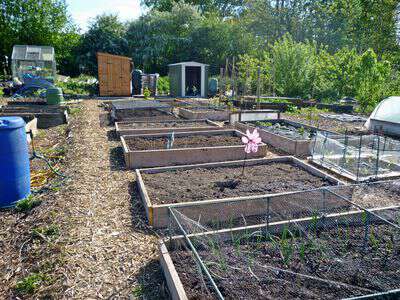 Photos by Jeanne Page
I had a great conversation with Don just before he left the UK about gardening. I was explaining that we had an "allotment", a term he wasn't familiar with. I explained that this was a site provided by the local council and carved up into "plots" which you can rent. I am Secretary of our self-managed 100 plot strong site and am kept very busy with committee meetings, organising social events, etc.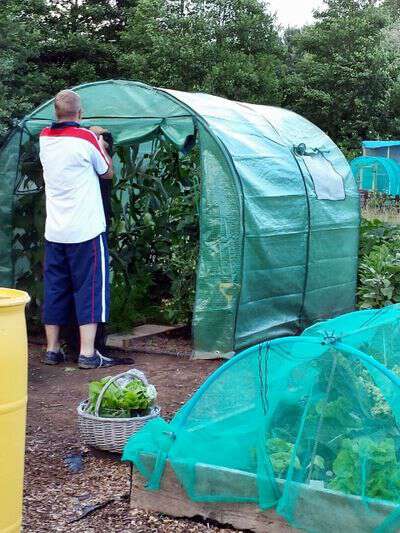 My husband and I run a plot around 180 foot by 30 on which we grow just about everything including sweetcorn which Don was quite surprised at! We also have a large polytunnel where we can grow things from seed to bring them on quickly as we have a relatively short growing season here in the UK.
I am Secretary of our self-managed 100 plot strong site and am kept busy with committee meetings, organising social events, editing a Newsletter and endless other tasks as well as still working full time (way past retirement I might add!).
Anyway onto the beans! As I explained to Don, I was born in Belgium in 1950 and my Mother was brought up in a small village near the border of Holland. Like all village people, my Mother's family and way before that I guess, were almost self-sufficient and with no freezers in those days, my Mum learnt the ways of preserving foodstuffs and one of the preserving methods she brought to England was for runner beans (I think you call them climbing beans?).
Items required for "salting" beans – a large glass or plastic sweetie jar (not sure if you have such a thing in US) but any large screw top container would do but you need one with a big enough opening to get your hand in comfortably.
Basically the beans are picked fresh, washed, dried and then diagonally sliced. Put about four big handfuls of beans in the bottom of the jar and then sprinkle a good handful or more of salt on top. (Mom used to use brick salt but you can't get that anymore so I just use cooking salt). Give the container a good shake to make sure all the beans have a good coating of salt. Screw the top on tightly. You will find after a few days the natural water in the beans will dissolve the salt and the beans will start to sink into the salty water. When more beans are ready, repeat the process until the jar is full, giving the beans a good press down each time.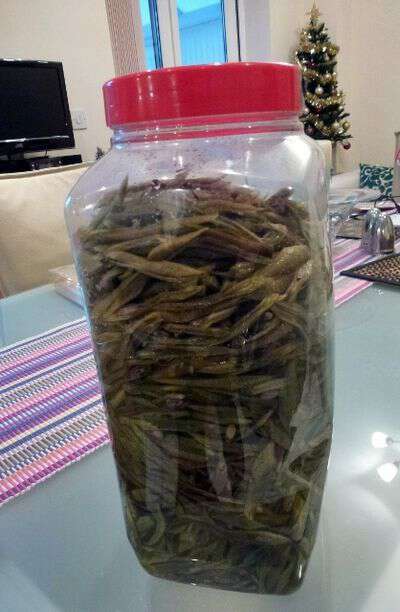 My jars are usually full by the end of September and I leave them then for a few weeks whilst there is still plenty of other vegetables to be eaten from the allotment. Around December time, we start on our "salted" beans. Simply take out however many handfuls you want for a meal and rinse well. Put them in a saucepan covered with cold water overnight. The next day, drain and top with fresh water. Cook as normal until tender. You will find the flavour is far superior to frozen beans.
To serve, we also sautee a couple of handfuls of finely chopped onion just until they are opaque and then toss the beans in and add a shake of white pepper to finish.
A whole jar of beans usually lasts us until well into Spring the following year.
—————————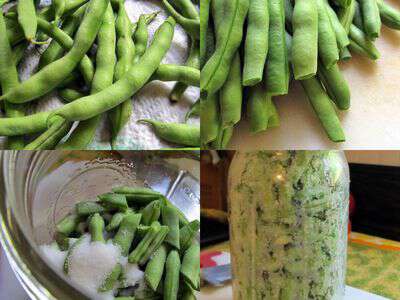 I'm so excited over Jeanne's process of preserving green beans! I could hardly wait to try it myself-I've been dreaming about it since she first shared her method with me back in December.
I didn't have a jar like hers, but I figured a large mouth canning jar should work just as well. I'll let you know how the process goes. I know Don is trying the method too-and he's using a ziploc bag. I'm positive he'll keep us updated on his results as well.
So very neat to learn a new method of preserving from a different culture. Thanks Jeanne!!
Tipper