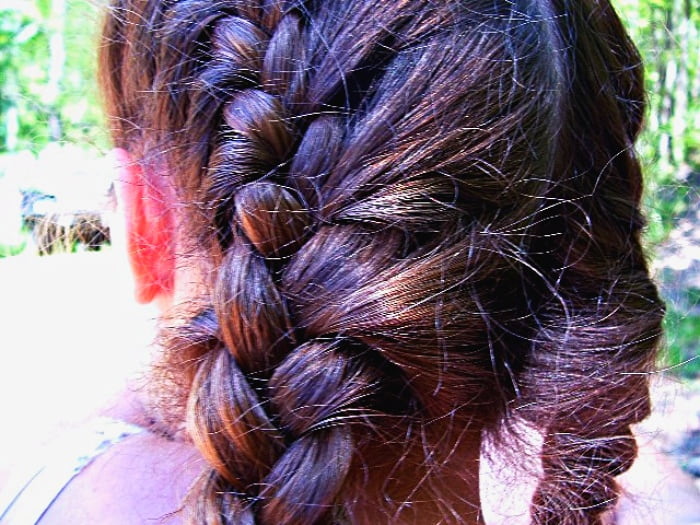 When I was a girl I loved playing with baby dolls. I had several and especially enjoyed playing with the ones with hair long enough to braid.
Granny braided my hair when it was long enough and when I was willing to sit still and let her. Granny always called it plaiting instead of braiding.
In high school I met a girl who would become a life long friend. I'd sit in 9th grade Algebra class and watch her French braid her hair. After watching it a couple of times I started French braiding my own hair. Every once in a while my younger cousin would come down and get me to French braid her hair for some special occasion.
Of course once I had the girls I had two heads of hair to play with. Over the years I've plaited their hair in various designs—everything from inside out French braids to French braiding only the front pieces of their hair to keep it out of their eyes.
The girls would sit on the edge of my bed for me to plait one side and then they'd have to move to the other edge of the bed for me to do the other side.
When they were young and moving around all over the place instead of sitting still with tension in their head I started telling them "Sit still with your head turned toward the closest and pull against your hair like a bear is trying to braid it." I haven't a clue how I come up with that, but it worked and today when I plait Chatter's hair she still laughs about me telling them about the bear.
I looked in a few of my reference books but didn't find the word plait listed as being unusual in Appalachia, but Granny is the only person I've ever heard talk of plaiting hair, well other than me and I really don't count since I learned it from her 🙂
Tipper
Subscribe for FREE and get a daily dose of Appalachia in your inbox