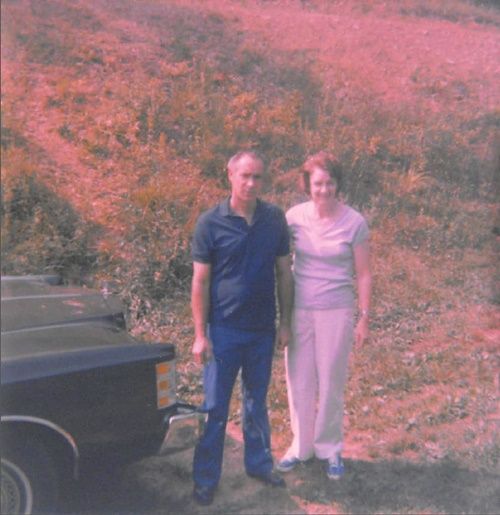 Pap and Granny – Early 80s
A week or so ago I was wanting something different to listen to. I keep cds in my car, but decided I'd look for something I hadn't heard in a long time.
I keep an old wooden box of cds under my desk.
I drug it out, poured all the cds out on the floor and started looking through them as I put them back in the box.
I was immediately drawn to one that said in black sharpie: "Momma & Daddy, Uncle Henry Truett, Aunt Grace or Aunt Pearl? Old reel to reel with kids in the background."
The next time I was in the car I popped the cd into the player.
It's mostly Pap and Granny singing together.
I smiled as Track 6 begin to play it was them singing "When I Stop Dreaming." I'd obviously listened to the cd before, but it had been so long I really didn't remember them singing that one.
Just as the song went off I got another pleasant surprise. Pap singing "Cash on the Barrel Head" by himself.
I got the biggest grin on my face. I could just see him sitting on the couch with Granny in the kitchen and us kids running around in the house.
In a serendipitous way the phone rings just as he starts singing about the telephone.
At the beginning you can hear some sort of smacking that almost sounds like its in time, but I'm thinking it was just one of us beating on something. I think I hear Steve clear his throat at one point and Granny says something just after the phone rings.
I love how Pap plays extra beats as he tries to think of the words.
Recently two people have interviewed us about growing up in a house filled with music.
Pap's version of "Cash on the Barrel Head," along with the other songs on the cd, are real life examples of what mine, Steve, and Paul's growing up years were like. Just as you can hear us in the background of the song I shared today, you can hear us in the background of the other songs on the cd too.
In one someone has a bad cough and I think its me, but it could be Paul. At the end of one you can hear me saying "momma momma" trying to get Granny's attention. You can hear doors opening and closing, dishes clattering around, and murmurs of voices. In other words, you can hear our family going about their daily lives as music was being made by those we loved the most.
Tipper
Subscribe for FREE and get a daily dose of Appalachia in your inbox