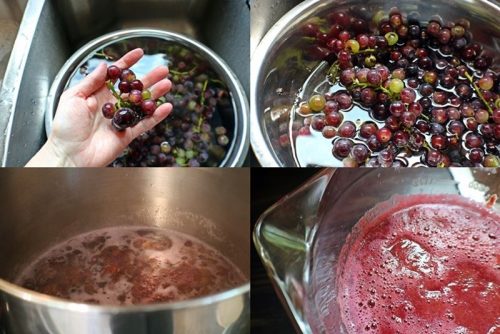 Sugar is used to preserve fruits and vegetables in the form of jelly or jams. Common ones come to mind like blackberry, apple, peach, and grape. But folks also jelly tomatoes, elderberries, gooseberries, huckleberries, peppers, and more!
In today's class we'll be making Fox Grape jelly from juice Carolyn canned last year. I'm hoping to show the class some fox grapes growing by the creek on one of our field trips this week, or at least take in a grape vine to show them. Fox grapes won't be ripe till late summer that's why we're using canned juice.
You know I have to show them how to make my favorite of jellys-Blackberry! The berries are just now beginning to ripen in our area so I'm hoping we can pick at least a few if not the entire amount needed for jelly.
Seems only fitting that we make a run of Folk School Red Pepper Jelly so we'll be doing that too.
Fresh peaches from farther south are beginning to show up at produce stands around this area so we'll make a run of peach preserves and I may show the students how to make jelly from peach peelings. Remember when Granny told me not to do that and I did it anyway? If you missed me proving Granny wrong, which is a very rare thing, you can go here to read about it.
Tipper
Subscribe for FREE and get a daily dose of Appalachia in your inbox