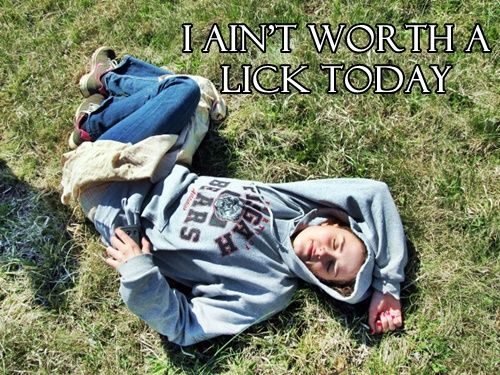 lick noun
1 A sharp blow or stroke with the hand or a heavy instrument.
1884 Murfree In Tenn 83 He hain't struck a lick of work fur nigh on ter a month. 1937 Hall Coll. Gatlinburg TN "Let's make it a sure lick this time" = here a fatal blow in a folk tale told by Lewis Reagan. 1939 Hall. Coll. Proctor NC. "Just hack it down. It'll fall just in a minute. Just hack it," he says. I struck a few licks on it, and it was just a little birch. (Dan Cable) ibid. Sugarlands, TN I knocked [the bear] in the head ever so many licks before I could get it to roll over and hush hollerin'. (Steve Cole) 1994 Walker Life History 75 The first lick he throwed he hit that wildcat and knocked it out.
[OED lick n¹ 4a"a smart blow"; DARE chiefly South, South Midland, Texas, Oklahoma]
2 The smallest amount (usu in negative contexts).
1956 Hall Coll.  Mt. Sterling NC He never worked a lick (Mitchell Sutton 1967 DARE (Maryville TN).
3 A supply of salt for ranging animals to lick as desired, often left in a cavity cut into a log. See also lick log.
1937 Hall Coll. A laurel lick [is] where deer used to come. [= a salt lick placed in a laurel thicket].
4 See citation.
1974 Fink Bits Mt Speech 15 = molasses. "Give him some lick for his dodger."
Dictionary of Smoky Mountain English
—-
As you can see from the dictionary entry, lick is a pretty important word in Appalachia. I most commonly hear it, and use it in the manner of number 2: "He ain't got a lick of sense" or "She won't strike a lick at anything unless somebody stands over her and makes her."
A few other lick usages that come to mind:
A lick and a promise is said when a job or task is completed in a hurry and not with the usual thoroughness. Example: "I ran short of time. I gave the house a lick and promise. I know they're company but it'll have to do.
Lick one's calf again: means the job or task wasn't done right and you need to do it over.
Lick thumbs: to come to an agreement (I've never heard this one, but it was in the dictionary).
Tipper
Subscribe for FREE and get a daily dose of Appalachia in your inbox