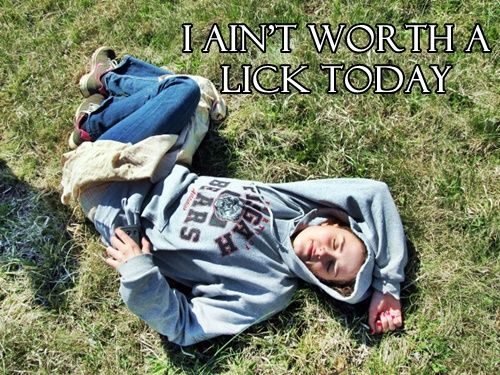 lick noun
1 A sharp blow or stroke with the hand or a heavy instrument.
1884 Murfree In Tenn 83 He hain't struck a lick of work fur nigh on ter a month. 1937 Hall Coll. Gatlinburg TN "Let's make it a sure lick this time" = here a fatal blow in a folk tale told by Lewis Reagan. 1939 Hall. Coll. Proctor NC. "Just hack it down. It'll fall just in a minute. Just hack it," he says. I struck a few licks on it, and it was just a little birch. (Dan Cable) ibid. Sugarlands, TN I knocked [the bear] in the head ever so many licks before I could get it to roll over and hush hollerin'. (Steve Cole) 1994 Walker Life History 75 The first lick he throwed he hit that wildcat and knocked it out.
[OED lick n¹ 4a"a smart blow"; DARE chiefly South, South Midland, Texas, Oklahoma]
2 The smallest amount (usu in negative contexts).
1956 Hall Coll.  Mt. Sterling NC He never worked a lick (Mitchell Sutton 1967 DARE (Maryville TN).
3 A supply of salt for ranging animals to lick as desired, often left in a cavity cut into a log. See also lick log.
1937 Hall Coll. A laurel lick [is] where deer used to come. [= a salt lick placed in a laurel thicket].
4 See citation.
1974 Fink Bits Mt Speech 15 = molasses. "Give him some lick for his dodger."
Dictionary of Smoky Mountain English
—-
As you can see from the dictionary entry, lick is a pretty important word in Appalachia. I most commonly hear it, and use it in the manner of number 2: "He ain't got a lick of sense" or "She won't strike a lick at anything unless somebody stands over her and makes her."
A few other lick usages that come to mind:
A lick and a promise is said when a job or task is completed in a hurry and not with the usual thoroughness. Example: "I ran short of time. I gave the house a lick and promise. I know they're company but it'll have to do.
Lick one's calf again: means the job or task wasn't done right and you need to do it over.
Lick thumbs: to come to an agreement (I've never heard this one, but it was in the dictionary).
Tipper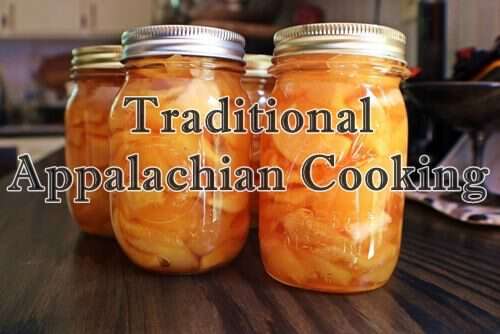 Come cook with me!
MOUNTAIN FLAVORS – TRADITIONAL APPALACHIAN COOKING
Location: John C. Campbell Folk School – Brasstown, NC
Date: Sunday, June 23 – Saturday, June 29, 2019
Instructors: Carolyn Anderson, Tipper Pressley
Experience the traditional Appalachian method of cooking, putting up, and preserving the bounty from nature's garden. Receive hands-on training to make and process a variety of jellies, jams, and pickles for winter eating. You'll also learn the importance of dessert in Appalachian culture and discover how to easily make the fanciest of traditional cakes. Completing this week of cultural foods, a day of bread making will produce biscuits and cornbread. All levels welcome.
Along with all that goodness Carolyn and I have planned a couple of field trips to allow students to see how local folks produce food for their families. The Folk School offers scholarships you can go here to find out more about them. For the rest of the class details go here.
Subscribe for FREE and get a daily dose of Appalachia in your inbox