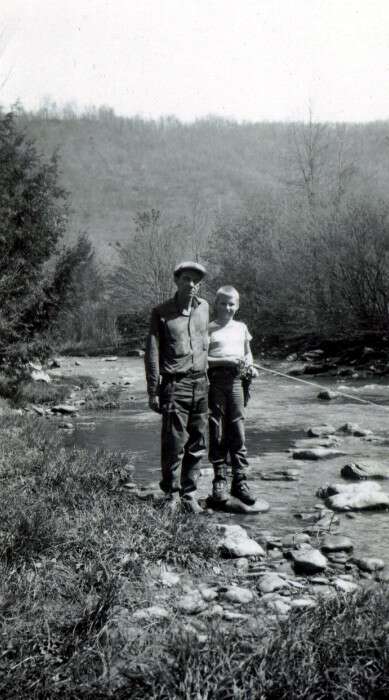 Photo provided by Bob Weekley
————————-
A few days ago when I posted the fish vocabulary words, I came across an interesting entry in the Dictionary of Smoky Mountain English:
hog fish, hog molly, hog sucker noun A scavenging fish, the logperch (Percina caprodes), most often known as hog sucker in the mountains. Same as white sucker.

1849 Lanham Allegheny Mts 65 I took the liberty of doubting the gentleman's word, and subsequently found out that the people of this section of country call the legitimate pickerel the "salmon," the black bass the "black trout," the mullet the "redhorse," and a deformed sucker a "hog-fish." 1939 Hall Coll. Waldens Creek TN The creek was full of fish-bass, white suckers, sliversides, red horses, hog mollies in the creek. (R. L. Fox) 1940 Berrey Sthn Mt Dialect 52 I disgust hawg-mollies and mounting oysters. 1968 DARE = freshwater fish not good to eat (Brasstown NC). 1976 Garber Mountain-ese 43 Sol is down at the crick tryin' to grab-hook hog suckers. 1995-97 Montgomery Coll. hog fish (Ledford); = a common brown sucker encountered in the larger creeks or in the rivers, often when fishing for trout. It was considered a 'trash' fish not worth keeping (Ellis); hog molly small catfish with a large head (Shields); hog sucker (Adams, Jones, Ledford, Shields); = a common scavenger fish in mountain streams (Cardewell); fish with a flat head, big eyes and a snoutlike mouth (Hooper).  [DARE esp South, South Midland]
The first quote from 1849 is what jumped out at me. It made me think of the ways Appalachians (and others) are often misunderstood by people who aren't familiar with our culture but think they know it better than we do. And of course the Brasstown reference pleased me. I can confirm that 40 years later-hog suckers still aren't a fish that's eaten in Brasstown. Hog sucker is what the ugly fish is called here.
Tipper