Today's entry in The Week Of The Fish was written by Keith Jones.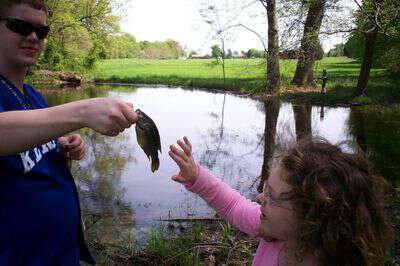 Photo by Gary Powell
————————–
Fishin' Early with Aunt Avery written by Keith Jones
My grandmother died long before I was born, but her two sisters strove mightily to fill that place in our lives. They lived on "the Old Collins Place" where their Dad had farmed, kept store, and generally been the most progressive innovator in Choestoe Valley (Union County, GA.) He gave each of his children some land when they married, then left the homeplace to the last three single children, with instructions for them to write wills leaving the farm to the last survivor. Uncle Esley had a small bedroom just off the huge kitchen, and Aunt Avery and Aunt Ethel had bedrooms toward the back of the house. Uncle Esley died when I was a small boy, leaving just the two sisters to carry on.
Aunt Ethel was short, practical, and worked outside the home in the school cafeteria. Aunt Avery was beanpole tall and thin, tough, wiry, and worked as hard as any man ever thought about doing. She taught me to 'cut tops and pull fodder,' to pull peanuts up and dry them, to feed the chickens and gather eggs, and many other everyday farm skills. But Aunt Avery wasn't all about work—she really knew how to have fun, too, and her favorite pastime was fishing.
Down behind the house was a shed absolutely filled up with cane poles. I don't remember her ever telling me the night before that we would be going fishing. I'd just wake up from a snug sleep under quilts and hand-woven coverlets to her shaking my shoulder and saying, "Get up now, jump in your clothes, we're going fishin'!" Outside, the gray light before dawn might reveal fog all along the creek, even far up the mountains, but she knew the rising sun would soon burn all that away. We'd stop by the shed and choose our poles for the day. She'd have me carrying an old bucket while she carried a shovel. On the way down to the creek, we'd stop near the barn and dig worms out of the black muck by the side of the building.
We'd walk across the pasture, past the fallen ruins of great-granddad's sawmill, to Aunt Avery's favorite bend in the creek. Sometimes we'd fish near the footlog that spanned the creek, linking with the trail that led over the mountain to my granddad Dyer's home. But more often we were a few yards downstream from there, where the creek made a sharp turn that produced a whirlpool. That vortex was Aunt Avery's secret honey hole for fish, and we seldom had to spend more than thirty or forty minutes before we had a stringer full of fat little sunfish. I suspect that Aunt Avery occasionally caught a native trout, since my most memorable outing was when a really large brownie took my hook, made an astonishing, twisting leap far into the air in front of my startled face and threw my hook and bait far up onto the bank.
Now the stream is stocked with rainbows. I'm sure anglers with thousands of dollars' worth of equipment would love to range up that stream. But they could never match the excitement I had as a little boy hollering, "Aunt Avery! Aunt Avery! I got one!" And certainly no breakfast matched what we would have when we returned from these dawn expeditions—fried fish, grits AND country fried potatoes, homegrown sausage, streak-o-lean and yard eggs (Aunt Ethel had some hens famous for giving double-yolk eggs.) Hot biscuits, cornbread, all kinds of jellies and jams, and of course sorghum syrup.
I never really developed into a fisherman as a grownup. Maybe it's because I don't think anything could really match those days when I followed that bonneted awkward-graceful figure in her long plain cotton dress, as we walked through the dewy pasture to fish.
————————–
I hope you enjoyed Keith's memories of fishing with Aunt Avery as much as I did! It makes me wish I could go visit her and Aunt Ethel myself.
Tipper