Today's entry in The Week of the Fish was written by Ed Ammons.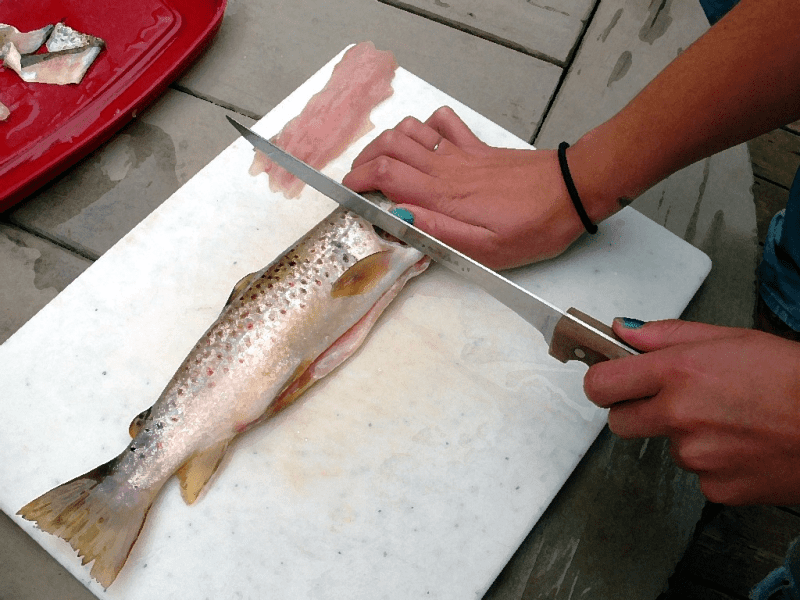 Caught On The River Bank written by Ed Ammons
When I was a teenager all us boys liked to ride dirt bikes. I never had one of my own but never failed to seize the opportunity to ride somebody else's if they had more than one or didn't want to go. Cousin Craz had three but one day when only his Suzuki 250 was running he asked me to go riding with him. So I piled on behind him and off we went. We took back roads, logging roads and pig trails 'til we came out on the Little Tennessee about half way between the Narrows and the mouth of Sawmill Creek. We turned upriver on a well worn trail used by fisherman there to catch white bass coming up out of Fontana to spawn. The trail followed the river and was straight and sandy smooth so Craz got it up to a pretty good clip. It was a warm sunny day and we were enjoying the wind in our faces.
Suddenly I was sitting on my butt on the ground. Craz was on up the trail a ways on his butt too and the bike was still going. After I recovered my wits a bit I got up and went to help my cousin but he was already up and brushing off his clothes. When he got to his right leg it had a fishhook in it. And the fishhook had a fishing line tied to it. And something was pulling on the other end.
We looked back down the line toward the river bank and here comes an inebriated angler trying to concentrate on reeling in his fish. He looked up and saw us and started cussing and shaking his fist in our direction but as he got closer and saw the size of his catch his jaw dropped and he just stood there with his mouth open.
As soon as our plastered piscatorial pal released the pressure on the line, guess what Craz did. He, being the laid back easy going soul he was, reached down and unhooked his pants leg then turn back to see about his bike. It was a little way on up the trail on its side still running. He picked it up, checked it out a little, said "you ready?" and off we went leaving our new found friend standing there in a state of shock.
Later that evening when we went back over the day's highlights, we figured Bozo was trying to cast out into the river and, being disoriented as he was, had cast back over his head and we just so happened to arrive at the same instant that hook did. We must have pulled out all his line and at the end it jerked Craz back into me and pushed me off first then pulled him off, leaving the bike to find its way alone.
As I said before, cousin Crazy Joe was the most unexcitable person I have met before or since. We could have tied the sot up in his own fishing line and left him laying there but we chose to let him off the hook, so to speak.
———————–
Now that is a fishing tale-I hope you liked Ed's story as much as I did!
Tipper