Today's entry in The Week Of The Fish was written by Bob Weekley in 1992.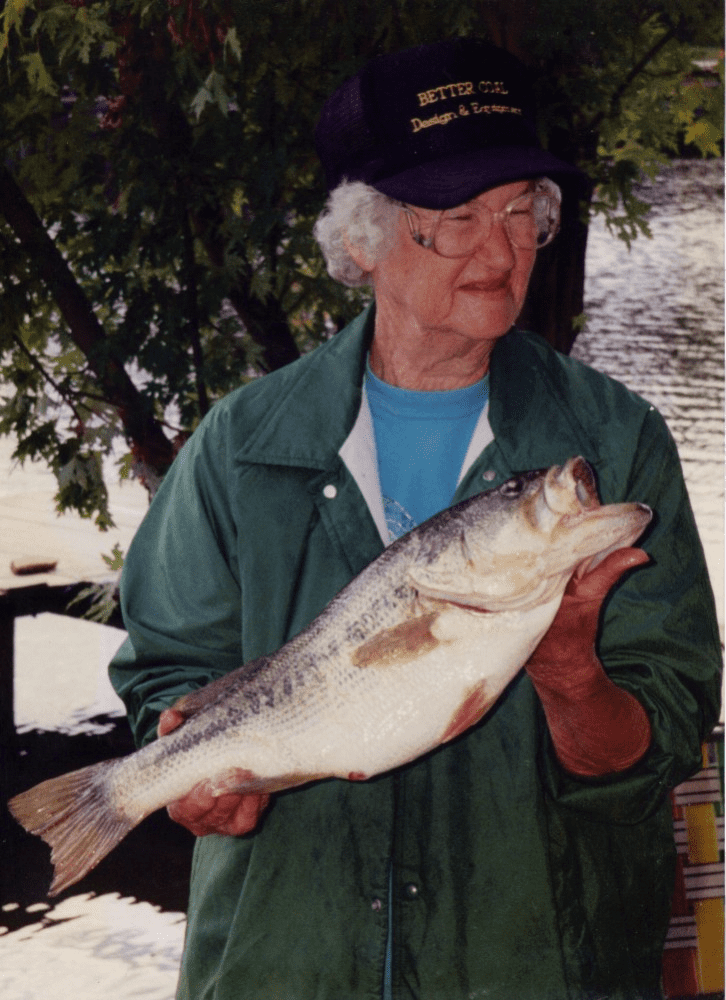 Bob's Mother
At 80, She Still Loves To Fish – Everyday written by Bob Weekley
This is a story not about a fish, but about the person who caught it. The fish? Well, it was a good one, a largemouth bass that weighed 8 pounds and was 22 inches long. Not bad at all. Citation size.
It was caught Sept. 13 at Crystal Lake near West Union in Doddridge County, where my mother and father built a home many years ago. The fisherman? It was my mom, Lena "Billie" Weekley, who is 80 years young and who fished every day possible. Mom is not into women's lib, so we can call her a fisherman, not a fisherwoman or a fisher person.
As everybody knows, mothers are the greatest, and to have a mother who fishes at age 80, well, it's especially nice. Mom and a friend, Mary Star of Wolf Summit, Harrison County, fish together a lot, and they fish everywhere. I can hardly mention a place within reasonable driving distance they haven't fished.
I take mom on shopping trips to Parkersburg, and drive to Marietta, New Martinsville and other places along the Ohio River, and as we pass a certain spot, she will say, "Mary and I fished that river or that lake." The list amazes me.
Sometimes a particular site will appear to be difficult as to river access, but apparently that is no problem for them. "Oh, we just slide down over the bank," mom will say.  I could not believe two ladies could have fished that many places, but they seemingly aren't through yet. Occasionally on our drives, mom will say. "I am going to tell Mary about (this lake or that stream), and we'll try it."
Mom fishes Crystal Lake more than anywhere else because she lives there. She and dad were among the first to build there, starting with a two-room cabin and adding on over the years.
But, as I say, her fishing isn't limited to Crystal Lake. She has also fished Conaway Run Lake, Middle Island Creek, Pennsboro Reservoir, Ohio River, Muskingum River and appropriately for mom, Fishing Creek. There are probably other places I'm not aware of. Mom is a busy fisherman.
My dad, who passed away several years ago, was a hunter and a fisherman, and of course mom was and is a fisherman, and they fished together most of their adult lives. They say, "Take a kid fishing," and I believe in that, but taking an older person fishing is nice too, especially if it's your mom. But in my case, I don't have to take mom fishing. She goes on her own.
The big largemouth she caught at Crystal Lake wasn't the first nice fish she has landed there this year. Earlier she caught a 23-inch largemouth, which although longer, wasn't quite as heavy as the aforementioned fish.
Mom has her share of fisherman's luck. She caught the 23-inch bass on a bluegill that she had hooked just moments before. She put the rod down with that bluegill still on the line and, and went to the house to see about something she was cooking. When she returned, she reeled in what she thought was a small bluegill but which turned out to be a big bass.
Mom isn't just a live bait fisherman. She is hooked on Lary Ikes and jigs, too. In fact just about anything as long as it will catch fish.
———————-
I hope you enjoyed Bob's post about his mother as much as I did. I hope I'm as spry as she was when I reach 80.
Tipper