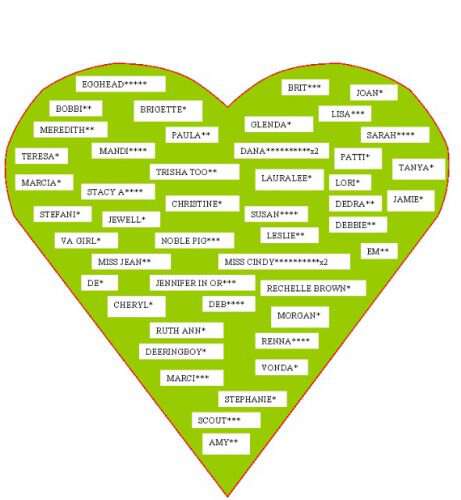 Hooray! We are home!! The bleeding stopped! Pap is feeling much better. The only bad news-the Docs didn't find where the blood was coming from. This isn't the first episode Pap has had with the mystery bleed, but it has been 2 years since the last one. Pap is glad to be home with Granny's cooking and I am glad to be home with The Deer Hunter, Chitter, and Chatter. But best of all…Now I can Spread the Love!
Each comment you leave on the blog is like getting a surprise present in the mail. I check for comments like a child counts presents under the tree. I am so grateful for each person who leaves a comment (for some many comments). And the wonderful caring ones left over the last several days for Pap- I cannot even begin to express how they made me feel-truly overwhelmed and blessed.
Chitter and Chatter both wanted to draw the name. After the fuss, Chitter won the honor of drawing out the name for the first Spread the Love giveaway.
And the winner is….
Trisha Too, I hope you enjoy the Angel coming your way. "Yeah for you Trisha Too" it even sounds right!
Again, I want to THANK YOU for the prayers and thoughts for Pap during his hospital stay. Your kindness really amazed me!
Tipper
p.s. Spread the Love for April has already started so I hope you keep stopping by and commenting!