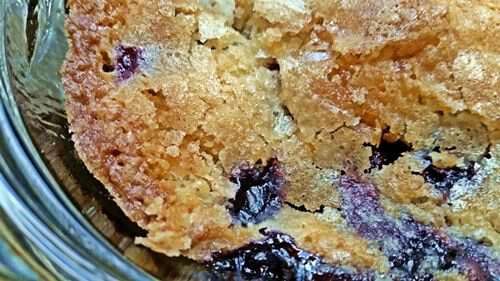 My blueberry bushes have done so good this year! I've been picking blueberries for several weeks and expect to be picking them a few weeks from now. With my bounty added to the gift of blueberries Miss Cindy got for me (she knows blueberries are my favorite!) I needed a way to use up some of the fruit so I went in search of recipes and found this one for blueberry cobbler.
The easy recipe is very similar to Granny's peach cobbler recipe so I figured it would be good and it was-the recipe is definitely a keeper.
Ingredients
1 cup self-rising flour
1 1/4 cup sugar (you'll use it for two different steps so divide it)
1 cup milk
1/2 cup melted butter
1 teaspoon vanilla
2 cup blueberries
Grease a 9 x 9 baking dish (I don't have a 9 x 9 dish so I used the closest thing I had-a rectangular glass casserole dish and it worked fine)
Stir together flour and 1 cup of sugar. Add in the milk, melted butter, and vanilla. Mix well.
Pour batter into your prepared baking dish and sprinkle the blueberries on top. Sprinkle the remaining sugar over the blueberries and bake at 350 degrees for about 45 minutes or until done.
If you'd like to print the recipe for future use-jump over to the site where I found it and print from there.
Tipper
Subscribe for FREE and get a daily dose of Appalachia in your inbox