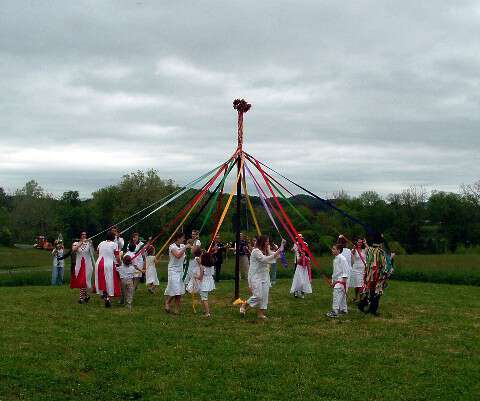 Dancing around the May Pole is a tradition which celebrates the return of Spring. Typically the occasion includes dancers dressed in white, live musicians, garlands of flowers, ribbons on the May Pole, and a picnic meal.
A few weeks back Chitter and Chatter were invited to participate in a May Pole celebration at the John C. Campbell Folk School. Their days of practicing with the ribbons were beautiful with plenty of sunshine and with just a little wind to make the ribbons wave.
But, before the actual celebration could begin two major changes shook it all up. The first, Mother Nature decided to bless the celebration with a rain storm, after all it is spring. The second, Chitter decided to come down with strep throat and a 102 fever.
The remedy for the first was to move the May Pole in doors and…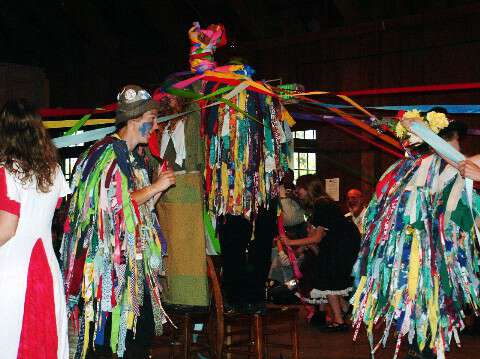 …have a human May Pole hold the ribbons (probably a first for the record books).
The remedy for the second-I had to take Chitter's place. I was so very nervous, but the folks had been so nice to invite Chitter and Chatter that I knew I couldn't let them down.
In the end, Chatter and I had a fantastic time, the only thing that could have been better is if Chitter could have been there too. I hope you'll leave a comment about May Pole traditions, or memories you may have experienced.
                        May Day Carol
A branch of May, my love. I say As at your door I stand; It's nothing but a sprout, but it's well budded out By the work of the Lord's own hand. My song is done and I must be gone, I can no longer stay; God bless you all, both great and small And send you a joyful May.
Kentucky Version from the Ritchie Family of Perry County, KY
Tipper