Today's guest post was written by Wayne Newton.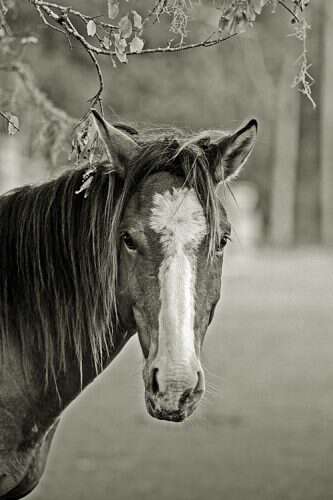 Blaze A Horse
I don't remember how old I was when Papa bought Blaze, probably 10 or 11. I do remember the truck backing up to the ditch-bank near the barn, and me running like crazy when I saw her head above the sides of the stake-body. She was just about the prettiest thing I had ever seen! This was before I discovered girls.
She was so frisky and shiny, and fat, and just the right size for a boy like me. She stood about 14 ½ hands, and she was a perfect bay color. I will never forget the smell of her. Completely unlike the barn full of mules I was used to. Her smell was an Aroma, like fresh straw, and sweet feed, and the best of hay. To this day, I still can be mesmerized by the sweet smell of a horse. I have owned many horses since then, but there was never another like Blaze; unless it was Tar Baby. That's another story, for another time.
Papa tried to temper my excitement by claiming that she was a "plow horse", but he did admit that she "might be rode"; the best of both worlds!! I couldn't wait to get up on her.
Papa put me aboard, as he led her to the barn, with me hugging her neck as we went. I hadn't even noticed that the truck also held her plow harness, and a saddle and blanket.
It wasn't long before Papa hitched Blaze to a plow, and took her to the corn-field. It was time to lay-by the corn, and it was a lesson for Papa, in the difference between a "plow horse", and a "plow mule". With Dinah, or Kate, or Vic, or Mink, all mules, they would start out the day, plodding up and down the rows, never changing their gait; that's the way of a mule. It was another thing altogether, with Blaze; she started off at a brisk pace, but instead of slowing down, or at least staying the same, the longer she plowed, the faster she went! By dinner time (12 o'clock), she was just about in a run, and Papa was hanging on for dear life, and begging her to slow down. She couldn't be slowed.
I remember, once, taking a jar of water to the field where Papa was plowing with Blaze. Now, not many things were more desirable to a plowman than a fresh jar of cold well water, so we carried it to wherever he was in the field. Long before I found Papa, I found where he was, by the noise that Blaze made. She was like a steam engine, huffing, and blowing and chewing as she came down the row of corn. She had the ability to throw her head to the side, bite the top out of a stalk of corn, and eat it as she went, never missing a step.
I remember another time, when we were gathering tobacco. Blaze was pulling sleds of tobacco from the fields to the barn. At the barn, the loaded box was set-off of the sled, and an empty box was placed on for the return trip to the fields. There were always two or more animals involved in the tobacco gathering. Blaze was just the same with a sled as she was with a plow. The longer she pulled, the faster she went, until she was almost in a trot.
We were gathering tobacco the day after a windstorm had come across the farm. Unbeknownst to us the wind had blown a piece of tin roofing off of the barn, and into the edge of the field by the fence. As I turned Blaze into the tobacco barn yard, we met another mule and sled just leaving, and were forced to go to the left as we met. I saw the piece of tin too late to do anything but shout, and try to stop Blaze, as she charged for the barn.
Blaze walked straight across the tin, and the next instant the front of the sled runner caught the edge of the tin, and it was driven against the hock of her back leg. She bolted, straight up, and forward, headed for the tobacco barn. The box of tobacco, just dropped was where Blaze decided to go, and suddenly there were two boxes of tobacco, one on top of the other. As she sideswiped the barn, she destroyed the sled itself, and then headed for the pen at the mule barn. Papa could be pretty unforgiving at times. Not only had I injured his sled puller, destroyed a sled, and two boxes of tobacco, I had proven that a boy my age couldn't be depended on to do anything right. His blinders prevented him from seeing that if only he had removed the piece of tin when he saw it first thing that morning, none of this would have happened.
Thankfully, though, Blaze wasn't seriously injured, most of the tobacco was usable, the sleds and boxes were reparable, and the earth continued in its orbit for another day. After that incident, though, Papa was careful what job he gave Blaze to do. Glory! That meant she was available for me to ride, anytime I wasn't in the field, or at the pack house.
Another memory of Blaze: she was just right for a young teenage boy to go-a-courtin on; which meant, we sat on her (Carolyn's) front porch, and held hands, until Aunt Ethel made me go home.
———————–
Makes me wish I had a horse named Blaze. Hope you enjoyed Wayne's post as much as I did-leave him a comment and I'll make sure he reads it.
Tipper