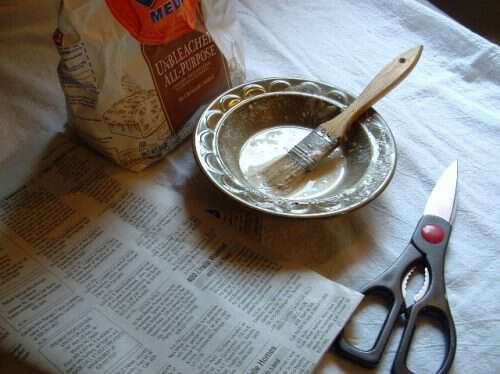 My thoughts have been swirling around this summer's vegetable garden. For the past several years, we've purchased plants that need an extra jump on the growing season-like tomatoes and peppers.
Since money is tight this year-I decided to go back to germinating seeds indoors in an effort to save money. I've started seeds in all sorts of plastic containers before-and even tried the egg shell method one year. I liked the egg shell-because you could plant it directly in the ground without disturbing the roots of the plant-but an egg shell is so tiny, most plants out grow it well before warm weather arrives. I've also used peat pots to start plants in-they worked well-but can be expensive if you're planting a large quantity of seeds.
After doing some research online, I discovered many folks use newspaper to make seed pots. I immediately liked the idea. Using newspaper is inexpensive or even free if you can get donated newspaper. Since the newspaper is biodegradable, you can plant the whole pot, which is attractive to me.
As I wandered the web, I found origami newspaper pots-which I figured out real fast were too complicated for me-I also found pots that used glue or tape in the construction-for me that kinda canceled out the green factor.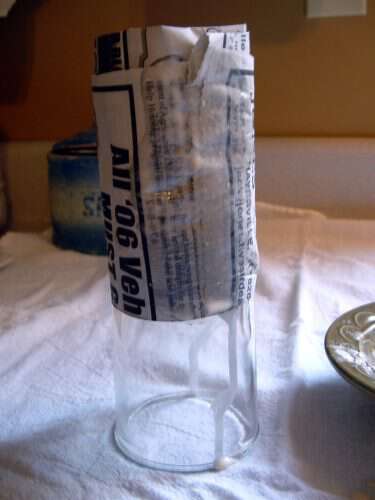 I played around with the original idea and came up with a method that worked for me. You need:  a paste made from flour and water, newspaper, scissors, and a drinking glass or something to mold the paper around.
All the sites I visited said to only use black and white newspaper-no colored pages.
~First-take a long strip of newspaper and wrap it around the bottom end of the glass-leaving enough above the bottom of the glass to fold over. (I folded one sheet of newspaper in half twice (lengthwise) and trimmed about 4 inches off one end. This part I just played around with until I got it to the right thickness-the first one I did was so bulky the paste wouldn't hold it-but you do want it thick enough to hold the plant.)
~Using the paste made from flour and water-paste the edge down.
~Fold the edges down over the bottom of the glass like you're wrapping a present-I snipped some slits in the sides to make it easier to fold. Then used the paste to secure the paper.
~Allow the pots to sit until the paste has dried. I used several sizes of glasses and jars-so I could pick and choose for each seed's need. Fill the dried pots with your choice of planting soil and you're ready to go.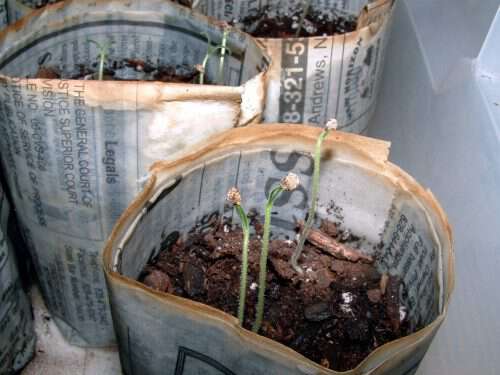 A few more tips: ~keeping the pots in a tray helps support them-since they are kinda fragile ~you can water from the bottom-the paper will act as a wick-but don't let them sit in water or the paper will dissolve ~if they are too wet when you plant them-the pot will fall apart in your hands ~if they are too dry when you plant them-the dirt will crumble out the top.
If you give the pots a try-I hope they work out for you-I hope they work out for me too.
Do you start all your plants from seed? If you do-what method to you use? If you don't garden-what method did your parents or grandparents use?
—————————
In 2009 when I made the newspaper pots-they really worked out great. Last year I just couldn't find the time to do them again-and used my usual array of plastic containers. I'm hoping to get a least a few newspaper pots made this year-it is nice to be able to plant the entire thing instead of pulling the fragile plant out of the container.
Tipper
This post was originally published on February 9, 2009 here on the Blind Pig.