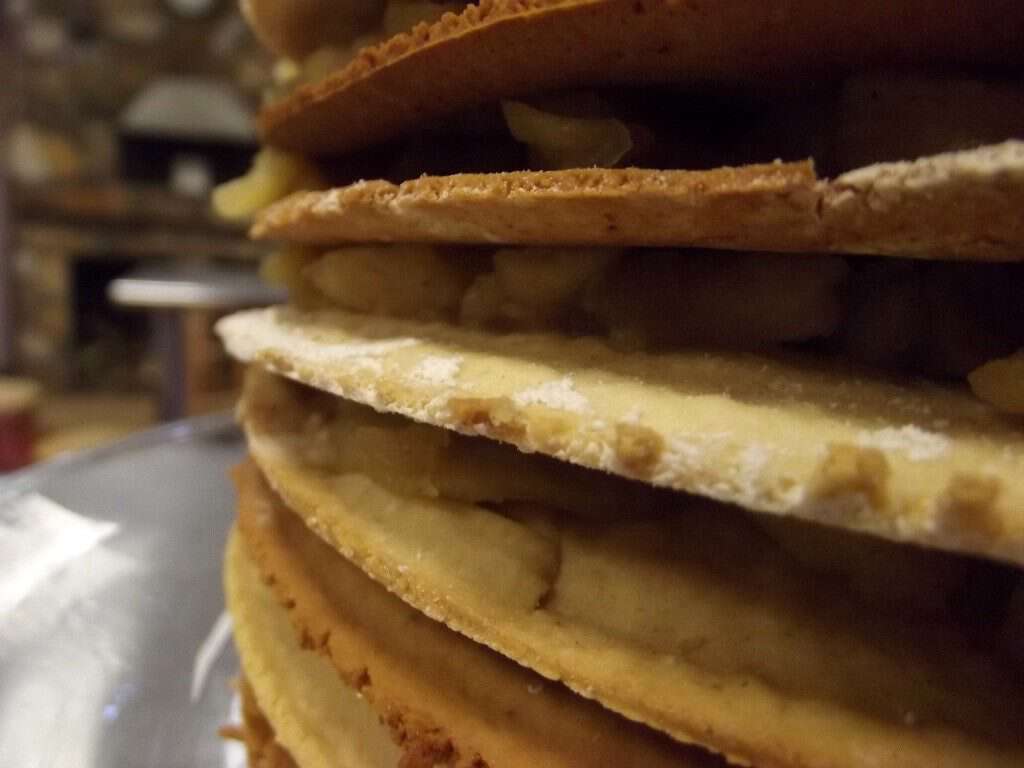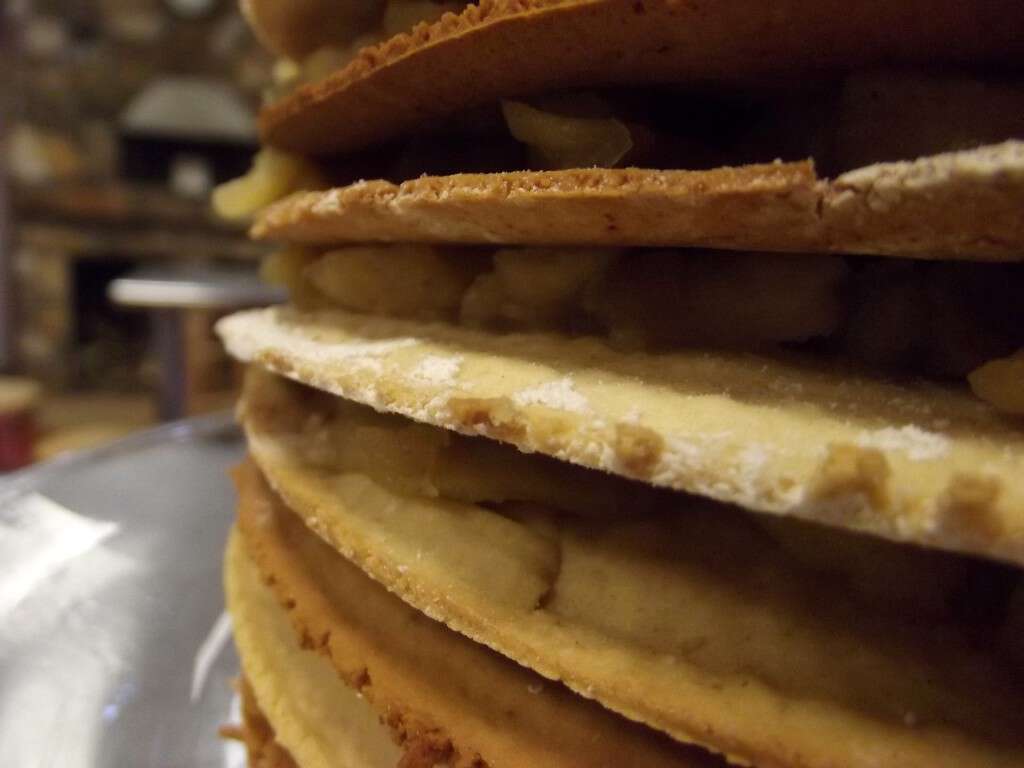 Appalachia is known for its Apple Stack Cake, but I never even tasted one until I assisted in a cooking class at the folk school several years ago. After my first taste of the cake I fully understood what everyone was so crazy about. The cake is delicious.
I think of Apple Stack Cake as the fanciest of traditional Appalachian cakes. It's not terribly difficult to make, but it is time consuming.
My favorite recipe for the cake comes from "More than Moonshine: Appalachian Recipes and Recollections" by Sidney Saylor Farr. The recipe was the one Farr's mother used. According to the book you can use fresh apples to make the cake, but I prefer using dried apples because they impart such a richer taste to the cake.
Apple Stack Cake
Part 1: the cake
1/2 cup shortening
1/2 cup sugar
1 egg beaten
1/3 cup sorghum syrup
1/2 cup buttermilk
3 1/2 cup plain flour (all purpose)
1/2 teaspoon soda
1/2 teaspoon salt
1 teaspoon ginger
1 teaspoon vanilla
Cream together sugar and shortening.
Add egg, sorghum, and buttermilk, mix well.
Sift together flour, soda, salt, and ginger.
Ms. Farr says to make a hole in the center of the dry ingredients; add the creamed mixture; and stir until blended.
Since I use a mixer, I add the dry ingredients to the creamed mixture a little at a time until the mixture is blended. Add vanilla and mix till the consistency is like a soft cookie dough.
You'll need to add additional flour as you roll out the dough to make the layers. The layers need to be the size of a 9 inch pan. I shape the dough into a loaf shape and divide it into equal portions. The recipe says it will make seven layers, but sometimes I end up with eight 🙂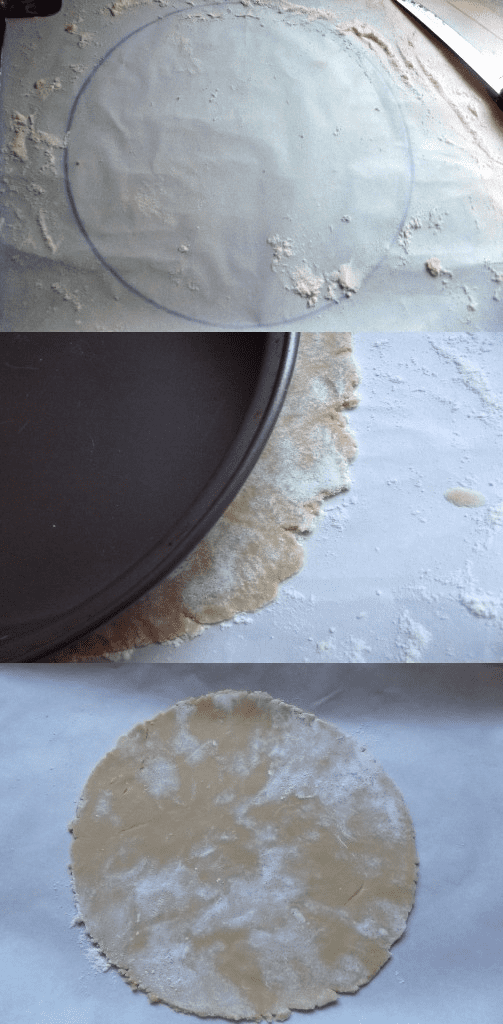 Using the bottom of my 9 inch cake pan for a template, I draw a circle on a piece of parchment paper. Using the circle as a guide: I roll the dough out to slightly larger than the circle; lay the 9 inch cake pan on the dough and cut around the edges. I add the excess dough I cut off to the next portion of dough.
Bake the layers at 350 for 10 to 12 minutes or until light brown.
Once the layers are baked set them aside to cool.
Part 2: Apple filling
1 pound of dried apples (that's about 14 cups of dried apples)
water
1 cup brown sugar
1/2 cup white sugar
1 teaspoon cinnamon
1/4 teaspoon cloves
1/2 teaspoon allspice
Put apples in a pot with water and cook; keep a fairly close eye on the apples as you may have to add additional water while they cook. Once apples are soft enough to mash, add the other ingredients and mix well.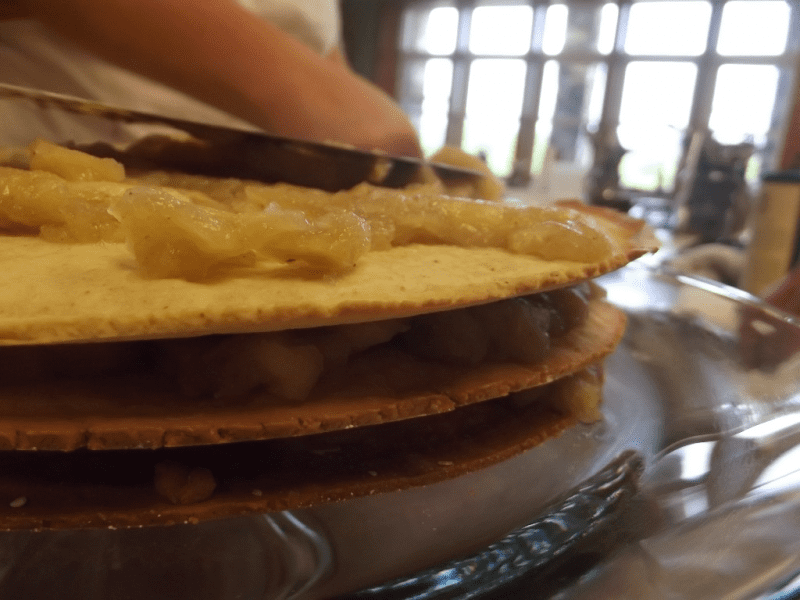 Part 3: Assembly
Place a cake layer on a cake plate and spread with apple filling. Repeat until you reach the last layer.
Whether you put apple filling on the top layer is up to you. Many cooks put apple filling all over the outside of the cake like you would any other icing.
The cake needs to sit overnight before its ready to eat. This allow the apples to fully soak into the cake layers.
Part 4: Custard Sauce
4 egg yolks
1/2 cup sugar
2 cups half-n-half
1 teaspoon vanilla
pinch of salt
Custard sauce is not part of the traditional apple stack cake recipe, however in my opinion it makes a good thing an even better thing.
To make the sauce: beat yolks in a metal bowl that will fit over a saucepan in the manner of a double boiler. As you beat the yolks, add sugar a little at a time.
Once sugar is added, increase the mixer speed scraping bowl as needed and beat until mixture is thick and lemon colored.
Add half-n-half and mix well. Move bowl over a saucepan of simmering water. Cook custard over water stirring often until mixture is thick enough to coat the back of a spoon. Add vanilla and salt. Remove from heat and cool in frig or by immersing in a bowl of ice water.
This is a thin custard, which makes it perfect for pouring over a piece of cake.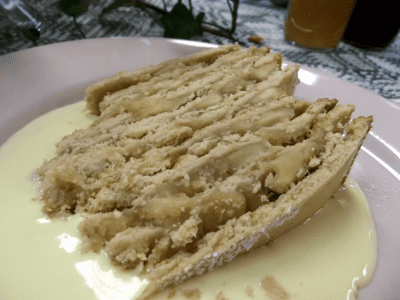 Part 5: EAT
After the apple stack cake has sit over night slice a piece and drizzle custard over it or under it or don't drizzle custard over it or under it at all and eat!
Tipper
Subscribe for FREE and get a daily dose of Appalachia in your inbox