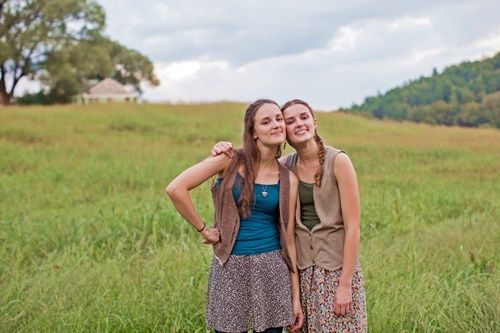 The Pressley Girls
The girls learned the song "Red is the Rose" five years ago and they've been singing it ever since. I wrote about the song back when they first learned it. As usual, I tried to see if I could find the origins of the song. I never did find out who wrote it, and I'm not sure anyone knows. Another song, "Loch Lomond" has the same tune, so that makes the task even more difficult.
This is what I found on the online music forum Mud Cat Cafe:
RE: Red Is The Rose
From: GUEST, Seamus Kennedy
Date: 17 Feb 00 – 01:32 AM

I recorded Red Is The Rose a few years ago, and I'd heard that Tommy Makem had written it. So I called him to get the facts for attribution, royalties, etc., and he told me that he did not write it, but that he had learned it from his mother Sarah, who had been singing it for many, many years. He didn't know whether Red is the Rose or Loch Lomond came first. Tommy and Liam Clancy did a beautiful version of it. All the best.
Its funny when the girls first started singing the song, Chitter loved it because of the fiddle playing. Somewhere along the way she decided she hated playing it and Chatter decided she loved singing it because the words were so pretty. Eventually they both decided the song was a pretty good one and they put it on their cd "When it Ends in a Walk."
Give it a listen and see what you think.
With Valentine's Day coming up this week the girls thought they'd spread some love by giving away one of their cds. For a chance to win one of The Pressley Girls' cds leave a comment on this post. Giveaway ends Thursday February 14.
Tipper
Subscribe for FREE and get a daily dose of Appalachia in your inbox