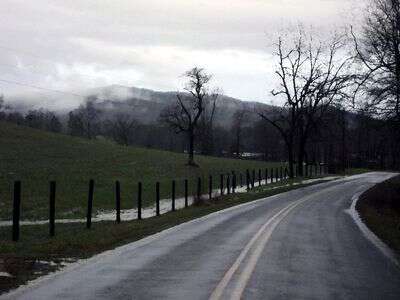 Over the last several days the waters of the mighty deep have been replenished in western NC-which is a good thing. The destruction left in the wake of such impressive amounts of rain over such a short period of time-is not a good thing.
When The Deer Hunter and I were first married he worked for a well drilling company. I would listen with rapt attention as he told me about the amazing things he discovered on a daily basis-like artesian wells which overflowed like park water fountains-making creeks of their own design as they found their way around the drill headed for lower ground.
If you've never seen a well drilled before-it is a truly amazing feat. One would think you just drive up to the location and start drilling-not true. Much preparation takes place before hand. The drill rig has to be jacked up on timbers to stabilize and level the drill and the water truck has to be sufficiently close enough to supply water to the drill-which is no easy task on our steep mountain grades.
With most modern day wells being no more than 6 inches in diameter (at least in our area), one would also assume the earth isn't disturbed all that much during the drilling of a well-not true either.
Air is pumped from the drill into the ground to blow out dirt and rock shavings as the drill bit goes deeper and deeper in search of water. Sometimes the dirt falls around the hammer blocking the air. As the air tries to find a way out-it can eroded the ground underneath the area-and underneath the drill rig causing it to tilt and settle deeper into the ground in a frightening manner.
One time The Deer Hunter came home telling about a particularly eerie well. About how the earth fell in and began to open up around the drill head. He said they shoveled dirt-threw rocks, logs, and anything else they could find into that hole-and it all just disappeared. Needless to say they broke down and moved from that well as fast as they could.
He told me about drilling in areas where marble was plentiful. Almost always they hit an underground creek or pond of underground surface water before they ever reached the layer of marble.
I learned about waters of the deep when I was a kid in Sunday school. But once The Deer Hunter shared his stories of water flowing freely from the tops of fresh drilled wells and creeks like my very own Stamey Branch running under the ground we walk upon-I was mesmerized by waters of the mighty deep-and I still am.
Tipper
Appalachia Through My Eyes – A series of photographs from my life in Southern Appalachia.