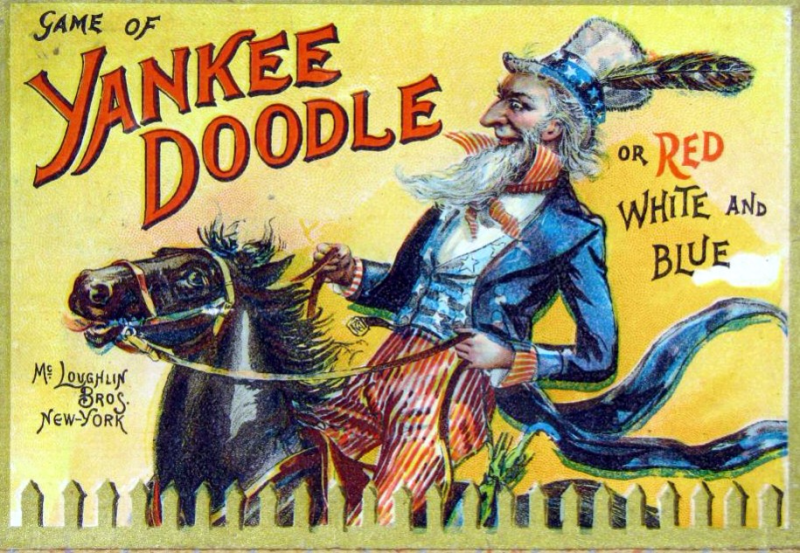 Yankee Doodle come to town,
Riding on a pony.
Stuck a feather in his cap,
And called it macaroni.
I remember this rhyme as being a celebratory chant of sorts in Mrs. Sult's second grade classroom at Martins Creek Elementary. Actually a lot of the rhymes we've been discussing over the last several months take me back to her classroom. A lover of rhymes and poems she must have been.
According to the book Heavy Words Lightly Thrown The Reason Behind The Rhyme written by Chris Roberts, the earliest mention of Yankee Doodle comes to us from 1768 when a Boston periodical mentioned the song as being a popular tune of the time.
The book also tells the rhyme was a favorite mocking tool of British soldiers in the Revolutionary War, until the Americans began using the rhyme as a chant for themselves-even singing the rhyme as the British surrendered at the end of the war.
In a vague sense, I always knew the rhyme was connected to the days of the Revolution; however I never understood how the macaroni part came into play. Of course in my mind I pictured the macaroni we eat today. The book Heavy Words Lightly Thrown The Reason Behind The Rhyme explains the word.
In the early 1770s a group of well to do British males toured around Europe where they picked up a new style of dress. Once they were home in Britain, their styles became all the rage with even clergy taking on some of the new fads. These style changing young men were called Macaroni.
So the British Gentry were taunting the hayseed Americans saying – you Yankee Doodle stuck a feather in your hat and think you've reached the highest style of British Macaroni.
Tipper
*Source: Roberts, Chris. Heavy words lightly thrown: the reason behind the rhyme. Large print ed. Waterville, Me.: Thorndike Press, 2006. Print.