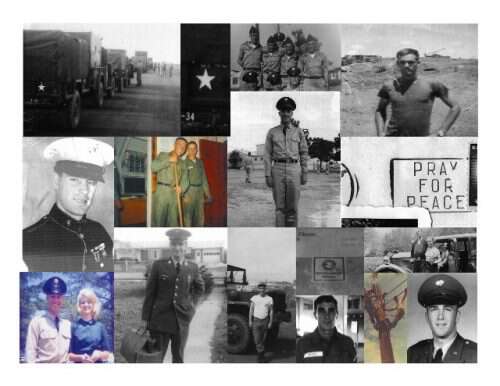 I'm not sure if it's cause Pap was a Marine-or cause he is patriotic-but he taught my brothers and me to make a big deal out of Veterans. Without our Military Veterans-past and present-where would America be? Would we even be free?
Those of you who have been Blind Pig readers since the beginning know Veterans Day around the Blind Pig house usually revolves around school programs. While there is a program coming up-with Chitter and Chatter singing-this year my Veterans Day has taken on a note of clarity.
You see-I've spent the last 2 days at the VA Hospital with Pap. Whether you're going for a doctor's appointment in the outpatient area or visiting the hospital floors-going to a large VA Hospital is always a humbling experience.
By far the majority of patients at the Oteen VA are elderly men. There are some women sprinkled in-and some younger vets too-but mostly it's old men. I'm always struck by their voices-some grown shaky with age-some so strong and vibrant it's easy to visualize them in their soldier boy uniforms standing at attention. It's funny how the different branches of service seek each other out-and eerie how they seem to know if their neighbor in the waiting room was a leather neck, ground pounder, or fly boy.
Over the years, due to Pap's health, I've been at the VA in Oteen for extended periods of time-like the last 2 days. As I sit in the waiting rooms I listen to snatches of conversation-wives worrying if their husband will pull through-daughters and sons hoping their father improves cause Mother needs to go home and rest before she ends up in the hospital too. Long time buddies sitting nervously to the side-as I look at the worry written on their faces it always makes me wonder why the Vet doesn't have family members to bring him-maybe he does-maybe he prefers the comfort of a friend who understands-maybe he's outlived all his family.
Perhaps the camaraderie between the Vets is the most touching. One asking the other where they were stationed and what year they served. The answers always bring along talk of rations-of memorable Sergeants-of trips to distant lands. Often the good folks who work at the VA join in the conversation as many of them are Vets who are still serving-taking care of those they used to stand in the chow line beside.
After a visit to the VA there are always folks who stand out in my mind over the days and weeks that follow-this time there'll be the gentleman who was being discharged at the same time Pap was last night-he was from Franklin-so we all joked about how we were going in the same direction once we left Asheville. There was the patient in the bed across the way who looked so frail and weak I'll wonder how long he makes it-but know his wife and daughter will be there to comfort him no matter what. There's the young tattooed janitor who entertained me and Pap with his out going personality and obvious gift for gab-who was in awe of Pap just because he was a Marine-he told us he'd never get over having his childhood dreams of wearing Marine dress blues crushed by type 2 diabetes.
One Vet stands out in my mind from a few years ago-he was a tall gangly old man. He could barely walk and his daughter helped him shuffle along with his walker. Once he got seated in the chair by Pap they began to compare stories of their service. The old man told Pap he was at Normandy-he told Pap all of his 4 siblings had served too-even his 2 sisters had been nurses. He told Pap they all came back-except both the sisters' husbands. What gifts of service he and his family gave-but what sticks out in my mind till this day is the way he talked to Pap about it-he talked like it was just yesterday or last week-like he and his siblings were all still young-like they were just recently home after having marched off to war for the good of me.
The thoughts I've shared above-I experience them each time I take Pap to the VA-but during this visit as I looked and listened to the old Vets-my mind begin to think of the brave soldiers who are serving now.
I kept looking at the old Veterans and thinking they made it. They came back home-and the loved ones who hover around them in hopes that their pain will be lessened are evidence that most of them went on to have a good life. I guess what I'm trying to say is my wish for all those who are serving now-is that they come home-is that they live long lives surrounded by family and friends who love them-is that someday they become the old Vets at the VA talking about their past service with their comrades.
To all Veterans-past and present-I'd like to send my sincere thanks and appreciation!
Tipper
p.s. Pap is feeling much better.