Today's guest post was written by Jim Casada.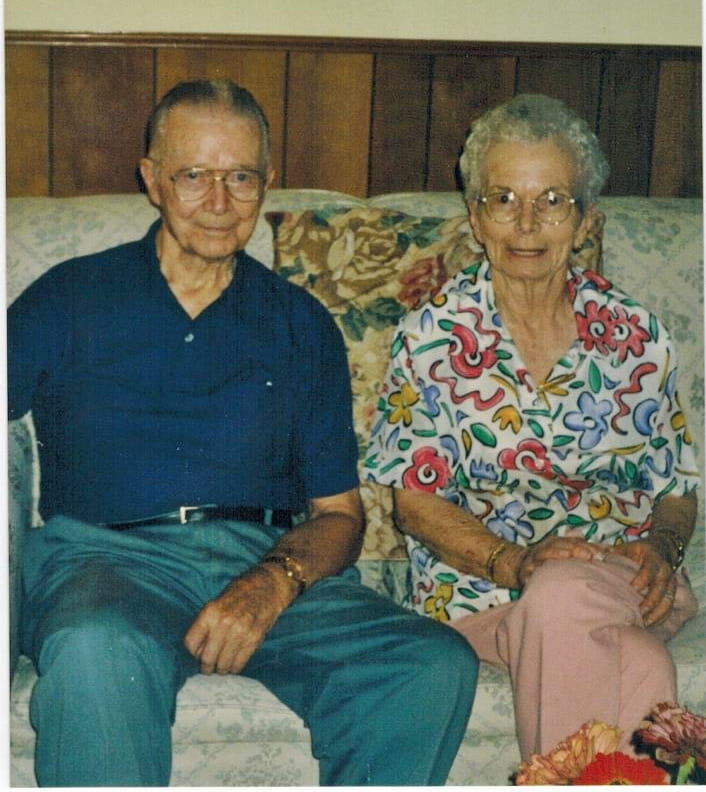 Commodore and Anna Lou Casada
Traditional Mountain Characteristics—Self-Reliance
Among the common sayings I heard frequently in my boyhood were three which went to the heart of a tried and true aspect of mountain character, self-reliance.  They were "make do with what you've got," "waste not, want not," and "God helps those who help themselves." My parents not only preached that gospel of self-reliance when it came to life's daily needs, they practiced it.
Both were young adults during the economic devastation of the Great Depression, and on top of that both had grown up as poor as Job's turkey. Daddy came from a large family. My grandparents almost certainly never had a bank account and to them real money, as opposed to barter, was such a rarity that Grandpa Joe invariably referred to it as "cash money." Even more striking was the fact that my paternal grandmother had been, as a child, "bound" (under indentured servitude).  Slavery may have ended in the 1860s but bondage remained legal in the U. S. until 1917, and she and her brother grew up in nearby Clay County under that status.
Momma, for her part, lost her mother when she was an infant and for whatever reason her father more or less abandoned her and an even younger sister to be raised, separately, by relatives. Hers was a troubled and unstable childhood, earmarked by constant moves and a paucity of love, although to her enduring credit as an adult she never allowed these things to affect her outlook on life. She was about as happy and optimistic a soul as you are likely to encounter, although her comment when she and Dad bought the home I grew up in shortly after they married was a telling one. She said, "I never want to move again." Until the final weeks of her life when she had to move to a nursing home, she didn't.
Those experiences translated to my parents being frugal almost to a fault, but they were in no way unusual in that regard in the world of the Smokies during much of the 20th century. They scrimped and saved with great care, threw nothing away, and sooner or later found a use for pretty much anything and everything. For Mom a jar of something bought from the store was destined to become a canning jar once the contents were used, and she simply could not abide food being wasted. Leftovers fed our hunting dogs, surplus garden vegetables were given to the needy or in some cases sold, and pretty much any non-food item which came her way was saved with the comment "I might find a use for that."
Daddy was even more given to recycling, although in my youth that word almost certainly wasn't in his vocabulary. He pulled, straightened, and saved nails. Any nut, bolt, or screw which came his way went into one of many jars according to size or other means he used for sorting. Indeed, virtually anything made of metal found a place in a jar or on a shelf in the basement. Those shelves, incidentally, were made of scrap lumber he had accumulated in various ways. He used the same tomato stakes made of locust for many decades, and when the bottoms gradually rotted away he just fastened two short stakes together to make one of suitable length. When he died there was a lifetime's accumulation of what can only be termed "stuff" in the basement, but over the years there's no telling how much money he saved simply by using carefully stored bits and pieces. He could figure out a way to engineer, repair, rework, or improve almost anything.
My parents' mindsets fit squarely with those of most mountain folks of the first three-quarters of the last century. They "made do," and did so in stellar fashion. Daddy absolutely hated to owe money, and other than the mortgage on the house and purchase of a couple of automobiles, he refused to borrow. If he wanted or even needed something, it just had to wait until he could scrape together enough funds to pay cash. That's the way most other local people handled their finances.
On one occasion, when I was in the first grade, I got a never-to-be-forgotten lesson in both self-sufficiency and fiscal responsibility. It was common in the 1940s and 1950s for school classes to have some type of project where they raised funds for a good cause. It might be a national effort like the March of Dimes or merely a food drive to help the less fortunate on the local level. Students were asked to make a pledge to help.
Momma and Daddy were always highly supportive of such initiatives, but on this particular occasion I got a bad case of the big britches. It in turn landed me in serious trouble. When the teacher asked for pledges, most of my classmates said their parents would contribute a nickel or a dime. In a master stroke of idiocy, I said "My Daddy will give five dollars."
 He lived up to that commitment, never mind that five dollars amounted to almost a week's mortgage payment on the house ($25 a month), but the lecture I got about spending money I didn't have lingers to this day. Since then I've always tried to abide by "make do with what you've got." For his part, right up until his death at the age of 101, Daddy earned interest on my mistake by retelling the story and embarrassing the dickens out of me every time. Like his mountain contemporaries in general, he reckoned a man could and should make do with what he had.
—-
I hope you enjoyed Jim's post as much as I did. If you'd like to read more of Jim's writings jump over to his website for a visit and browse through his newsletter archive.
Tipper
Subscribe for FREE and get a daily dose of Appalachia in your inbox