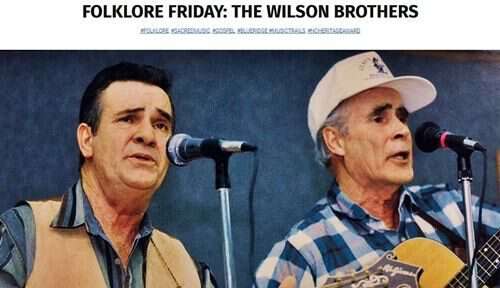 The year 2019 as been declared the "Year of Music in North Carolina."
The campaign being promoted by the North Carolina Arts Council is called "Come Hear North Carolina." As part of the campaign the NC Arts Council republished it's 1998 Heritage Award profile of The Wilson Brothers (Pap and his brother).
The State of North Carolina via the North Carolina Arts Council has awarded folk artists the North Carolina Heritage Award since 1989. In 1998 The Wilson Brother's won the award.
It seems like just yesterday that they received the prestigious award for their music. I remember the girls were just babies when one of the interviews leading up to the event took place in our living room. It's wonderful to see them highlighted again and the republished piece has garnered quite a bit of attention which is very pleasing as well.
To read the article about The Wilson Brothers go here.
Tipper
Subscribe for FREE and get a daily dose of Appalachia in your inbox