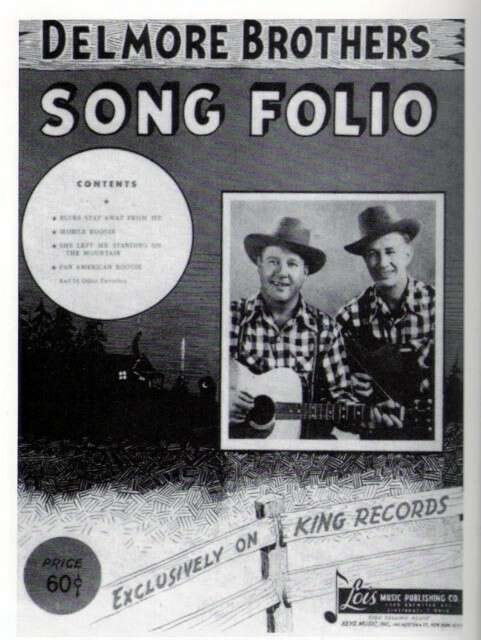 Paul and Pap's repertoire includes many songs written by the The Delmore Brothers. The Brothers are among Pap's all time favorite groups. He enjoys their playing and singing-but as a songwriter himself-he is totally blown away by their song writing skills.
The Delmore Brothers were farm boys from Alabama. Their heyday was in the 1930s and 40s but their songs are still popular today-especially in bluegrass/old time circles.
The Brothers played radio shows, were members of the Grand Ole Opry, and were inducted into the Country Music Hall of Fame.
Even though I've been familiar with The Delmore Brothers my entire life-as I began to research their songs-I was amazed at how many famous standards they wrote.
To name a few: Blow Your Whistle, Freight Train Boogie, Gonna Lay Down My Old Guitar. Others include Browns Ferry Blues, Midnight Special, Southern Moon Shine Down Again, When It's Time For The Whipporwill,  I Won't Be Worried Long, Sandmountain Blues, She Left Me Standing On The Mountain, Happy On The Mississippi Shore, Put Me On The Trail To Carolina, I've Got The Big River Blues, and tons more!
For this week's Pickin' & Grinnin' In The Kitchen-John Delmore, a great nephew of the brothers, requested Pap and Paul do Weary Lonesome Blues written by The Delmore Brothers.
Hope you enjoyed The Delmore Brother's song. Are you familiar with any of the other ones I mentioned? Or have you had the "Weary Lonesome Blues" lately? I've been blue about the gas prices in my area jumping up over a dollar a gallon due to IKE-that is if you can find any gas to buy!
Tipper