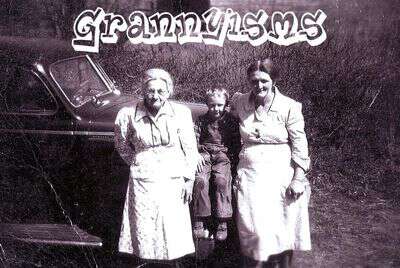 If you look at the top of this page-you'll see Grannyisms-this link takes you to a page where I'm collecting memories-precious, funny, and inspiring about people's grandmothers.
Growing up I called one grandmother Granny and the other Mamaw. There are so many things I wish I had paid better attention too-so many things I wish I could ask them now.
I'm going to highlight some of the wonderful comments folks have left about their Grandmothers. I'm going to start by sharing a comment I left about Mamaw.
Tipper said:
One of my earliest memories of Mamaw is a snowy day I spent with her when I was about 6 years old. Mamaw made Snow Cream for my brother and me. I remember her gathering the snow and explaining to me the first snow of the year was posion, but since this wasn't the first snow of the year it was o.k. to eat.
Snow Cream is simply a bowl full of snow with a little milk, sugar, and vanilla mixed in. I would guess it started out as a poor man's icecream. I don't know if Snow Cream is a recipe relegated to Appalachia or if it is widespread. If anyone knows about it or has an experiece of their own with Snow Cream please post it. I would love to hear about it.
Jamie said:
My gramma was the matriarch of our family. She was a school teacher and wife of a baptist preacher. She was a strong personality and didn't put up with foolishness. She was the best cook on both sides of the family and I'd never tasted food of any kind as good as what she served when we visited her and my Grandpa. I can never get my tomatoes to taste as good as the ones she grew–I've tried many tricks and suggestions over years and nothing works. Guess she had the magic touch. She could make things grow and thrive and I like to think I am a better person knowing she was a big influence in my life…
Cheryl said:
My dad's mom we called grammy Zo. She would make hats out of newspaper to keep the sun off of her when we were down at the creek swimming and or fishing. She would always come home with her pockets full of pretty rocks.
Jennifer in OR said:
Cousin Dewayne said: 
Hey Tipper, it's your Cousin Dwayne. I wondered the other day, when I saw you, if anybody still called you Tipper. I was good to see you and see how much both my Aunts that were there, are looking like our Granny.
I remember sitting on Granny's front porch and waving at EVERYBODY that went down the road. It didn't matter if you knew them or not, you waved.
I remember playing under the tree in the front yard and making mud pies and then putting them out in the sun so they would bake.
Do you remember how Granny used to dry what she called 'fruit'? They were actually apple slices that she would lay on a table out in the sun so they would dry and then she would make some dessert with them.
Of course there was always canning time. If it was time for kraut, when you got to her house, she would give you a dishpan full cabbage to chop with a 'chopper' (made from a 'Pet Milk' can that she had burned the rim off of to make it sharp). If it was time for green beans, you got a 'mess' of them and broke them up so she could can them. When it came time for apples and peaches, everybody had a knife and we all sat around peeling, slicing (and sometimes eating) the fruit to help Granny, so she could can the peaches, and make applesauce and apple jelly.
I have so many memories of Granny and I hope I can share as many as possible.
SharonLee said:
I had a really special grandmother (she worked at the local school in the lunchroom and also as a janitor).She was the kindest, sweetest lady on earth. The school (grades 1-12) dedicated their School Annual to her one year, they all loved her so much too. It was considered quite an honor!!! I went to her house every chance I got … fed the chickens, helped milk the cow, make the butter, gather wood for the wood stove in the kitchen and yes, had the experience of using her old outhouse. Never heard a harsh word out of her mouth or a bad word about anyone. Guess the worst she said about someone was if she called them a "salty dog"! She had a hard life. My grandfather died when she was pregnant with their 9th child and she'd never worked a day in her life. Talk about hard times.
I hope you enjoyed all the Grannyisms! There are many more on the Grannyisms page-so jump over there and read them. And please leave one about your grandmother.
For those of you who have already left one-there is no limit-just keep posting your memories as they come to you-the more the merrier!!
Tipper