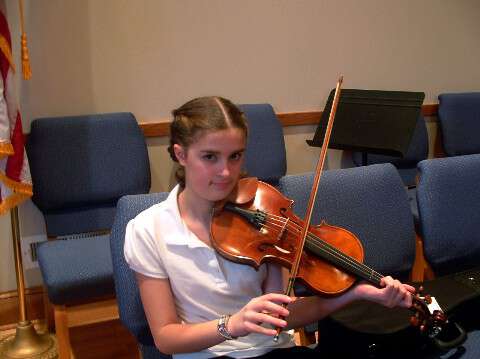 Today was Chatter's first violin recital-to say she was excited is an understatement-to say we were proud of her is also an understatement. She did a fabulous job-as did all the musicians.
The program was titled Angels We Have Heard-most of the numbers were Christmas songs. As I watched Chatter play, I thought to myself, she will think of this recital each time she hears the songs she played. I guess you could say I realized Chatter was making music and making memories all at the same time.
When I think back through my Christmas memories-many are connected to music-but 2 stand out above the rest.
When I was in 2nd grade, Mrs. Sult was my teacher. I remember her classroom had praying mantis living in the windows; she washed out 2 boys mouths with soap for saying bad words; and I learned the Christmas song: Please put a penny in an old man's hat, if you haven't got a penny then a half a penny will do. All these years later, I can hear those words and instantly be a shy little girl with bangs cut too short standing in line along the concrete wall under the big windows in the back of the room singing with my classmates.
In my early teen years our church youth went caroling each Christmas. We piled into the back of a flat bed truck with rails and rode through the community stopping to sing at people's homes-mostly elderly folks who couldn't get out much.
I'm guessing I was about 13 or 14 the year we went to James' house. He had been a strong presence in our church, serving as a deacon for many years (he was also an Appalachian character). He'd been sickly for a good while and was almost bed fast. I don't remember what we sang at his house-but I'll never forget that he came out onto the porch to get a better listen-his pajamas were striped, his body was weakened, but his spirit seemed to strengthen as we sung. Maybe he was thinking how nice it was for us to come round to his house-maybe he was pleased to see a whole bunch of young folks who would hopefully continue on the path he had helped forge.
Now that I've shared Chatter's first recital-and 2 of my Christmas memories-I hope you'll share one of yours.
Tipper