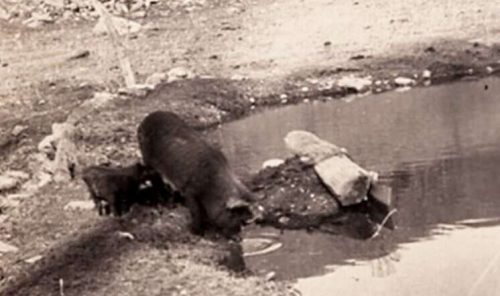 "Now, when they killed the hogs, they used all the parts of the hog—all of them. Out of the head they made head-souse, which was cooked and you'd put vinegar over it and let it set for several days.
Just ground the head meat up and put pepper and salt and vinegar in it. Course, they took the bones out and cooked it real tender before they mashed or ground it up. I can remember my mother-in-law mashing it with her hands. They didn't have a grinder at the time.
And they made sausage from the scraps. And, of course, they cured the shoulders and the hams and the side meat. Back then it was cured with white salt. We didn't know what this Morton's salt was at the time.
Then after about four or five days, we'd go back and salt the bones again, around the edges of the bones. And after twelve to fifteen days, then, you could hang the meat up. Finest thing in the world, I guess.
We made livermush from the liver. You know, we buy it in the store now and it isn't fitten to eat. Always, when I made it, I cooked the onions and everything with it—salt, pepper, and onions. And then we'd make it out in cakes so we could slice it. It sure tasted different from what we get now."
—Winnie Biggerstaff, 1904 McDowell County – "Snowbird Gravy and Dishpan Pie" by Patsy Moore Ginns
---
Last night's video: A Good Place to Live in Appalachia
Tipper
Subscribe for FREE and get a daily dose of Appalachia in your inbox