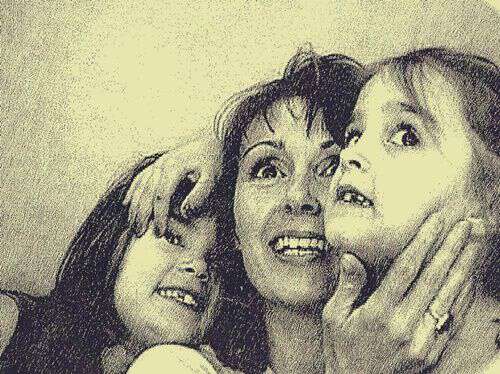 Chatter, Tipper, Chitter
Over the weekend we got to go on an outdoor trip with good friends. I'll share more on the actual outing with you later on.
I had been to the area once before and felt a real kinship with the land, but did not know I have a direct family connection to the place. And when I say direct connection, I'm actually talking about a tie that's generations old.
For the last few weeks I've been studying on how we can look into a photo of an ancestor, even one we never knew, yet see something that reminds us of our selves or a close relative. Maybe it's the shape of the eyes or the tilt of the chin.
Since I started the Celebrating Appalachia YouTube channel I've had the opportunity to study my own face more than most folks. Often when I'm editing a video I'll see a look come across my face that is so much like Pap I'm left startled for a few seconds.
A week or so ago someone commented on the "I Am From Canning Jars" video to ask who the lady at a certain point was because she looked so much like Chitter. It was a photo of Granny when she was young.
Once I looked closer at the photo, which I've seen my entire life, I realized how much she looked like Chitter right down to the way she was holding her head and her eyes.
Somewhere we have a photo of one of The Deer Hunter's ancestors. He looks strikingly like The Deer Hunter—you'd easily be able to convince someone that The Deer Hunter had dressed up at one of those old timey photo sets you often find in amusement parks.
Thankfully the good looks of the ancestor is all The Deer Hunter inherited, his life ended in a very tragic manner.
As I studied on that fact I became fascinated by how we can inherit the looks but not the person's intent. And of course it can work the other way as well when we inherit the person's mannerisms and ways but not one shred of the outward appearance.
I've always thought The Deer Hunter looked like Miss Cindy, but boy when he gets mad and draws his brow down tight it's like looking straight at Papaw Tony 🙂
A couple of ways we describe looking like one of our ancestors, past or present, in Appalachia:
Chitter sure does favor her Pap.
My niece April looks a sight like Granny (and me).
Chatter is the spittin image of Miss Cindy.
It's easy to see how noses, eyes, hair color, and face shapes are passed down from one family member to another. A little harder to see, but still fairly obvious are personality traits.
After realizing I had a direct connection to the place we visited over the weekend I'm studying on whether or not the love for a bold creek and steep mountains can be passed down as well.
Tipper
Subscribe for FREE and get a daily dose of Appalachia in your inbox