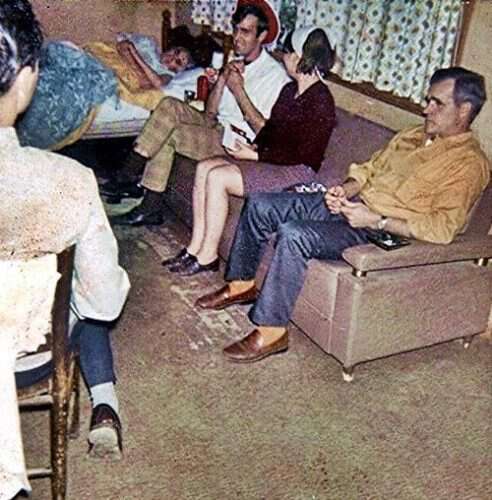 See the gentleman sitting at the end of the couch-that's was Pap's Uncle Frank-my Great Uncle Frank. He died when I was in High School-but lately he's been on my mind.
Depending on who you talked too-there would have been folks who liked him a lot and folks who didn't care for him at all. He was what you might call an outlaw.
Frank served in World War II. As kids we were forever impressed he killed the Germans. We all told the tale of him fighting down a hundred machine guns at one time-and leaving the enemy in his wake. Looking back, I don't ever remember Uncle Frank talking about the war-I think one of my cousins made the story up for the gospel and we all went along with it.
To say Frank had a drinking problem was an understatement. I believe all his brush ups with the law were caused by it.
One morning I was outside playing when a cousin ran up to Pap and Granny's to tell me "the law is down at Papaw's and they're looking for Frank." I chased him back at break neck speed. There leaned the officer against his parked car. As he stood by the line of mailboxes he said "I've got all day to wait."
Where was Frank? As soon as he saw the law coming up the road, he went out the back door of Papaw and Mamaw's house, up through the woods, down the bank and in the back door of my Uncle's house. While the policeman stood his post, Frank sat on the couch and ate a sandwich.
Although they didn't get him that day, there were other times when they did-like the night they busted in the doors of Papaw and Mamaw's house.
Frank went back and fourth between Mamaw's, she was his sister, and one of their other sisters who lived across the mountain in Pine Log. Sometimes on weekend mornings we'd wake to find him sitting on the front steps waiting for us to get up-waiting for Granny to cook him some breakfast.
After Mamaw died, Frank bought a trailer and put it in the pasture down the road. He entertained other outlaws-most harmless, and drank a lot till the end of his life. Not long after he moved into the trailer Paul was riding his bicycle up and down the road when Frank hollered out the door and told him if he'd go get him a jug of water from the old spring across the road he'd pay him a dollar. Being the little rat that he was and since he knew Frank couldn't see him-Paul got the water out of the creek instead of going to the spring. A few day's later Frank offered him another dollar for a jug of water-telling Paul-and "And this time don't get it out of the creek-Go to the spring." I guess Frank could tell taste the difference.
One Sunday night-Frank accidentally set fire to the trailer. While building a fire he got the gas and kerosene cans mixed up.
Once the trailer was engulfed he simply walked up the road to my Uncle's, went in, and had a seat. You can imagine how he looked-how he smelled. They asked him "Frank what in the world happened to you?" He told them "oh I set the house on fire."
When we arrived home from church-the blaze was huge-and the fire trucks hadn't arrived yet. I was terrified he was still in there-Granny about had to slap me I got so worked up. Later that night, after the terror was over, and the fire was out, Frank spent the night with us-I'll never forget the way Granny's blue bathroom looked when he got done taking a shower let's just say it was no longer blue.
Frank was good as gold to me, he served his country during a horrible war, he took Pap under his wing in Ohio and California, and yet somehow he was an outlaw too. That's what I've been thinking about-how most of us to one degree or another are sinners and saints at the same time-just like Uncle Frank.
Tipper