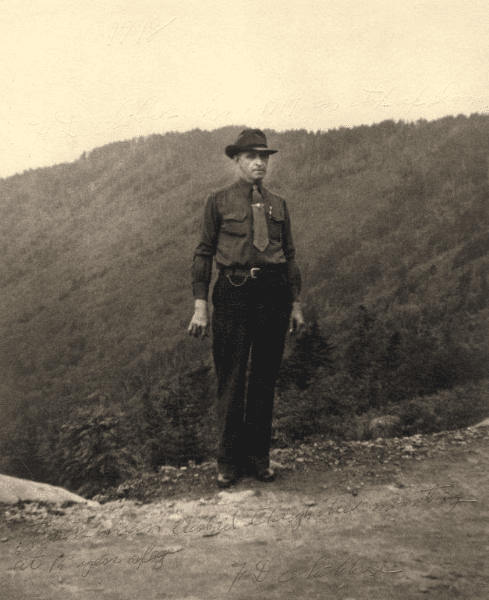 (Photo of Frances David Childers courtesy of Dwight Childers. Copyright belongs to www.childers-shepherd.org)
Frances David Childers was the firstborn child of Thomas Clingman Childers, Jr. (1871-1957) and his wife, Bertha Elizabeth Lambert (1878-1942). In 1976 Dwight Childers had the foresight to conduct an interview with his uncle, Frances. Here are Dwight's words regarding the interview which can be found on this page of the www.Childers-Sheperd.org website:
This is a transcript of selected passages from an interview of Francis David Childers (1893-1983) which I taped in December, 1976, when I visited Uncle Francis in Asheville. My father Roy Childers was present also.
In transcribing the sound of his voice to words on paper, I have resorted to special spellings and punctuation in order to represent the sound of his speech as exactly as possible. I have done this because his speech sounded beautiful and graceful to me, and I wanted to convey as much of the actual quality as I could. I certainly had no intention of creating any sort of comic "hillbilly" effect. I am very proud of my own heritage as a mountain person, and trust that you will understand the spirit of this transcription.
– Dwight Childers, December 1976
—————
As I told you yesterday, Dwight has graciously allowed me to share research from his wonderful website. Today I'd like to let you hear from Francis himself, by sharing two portions of the interview Dwight conducted. Both interviews give insight into the rugged landscape of the Ocona Lufta Valley and the country which surrounds it.
Moving Around To Make A Living (Interview with Frances David Childers conducted by Dwight Childers 1976. www.Childers-Sheperd.org retains sole copyright)
Now we started moving from there over across the ridge, to another little old house. He moved to where he could find land to tend. That's all the way he had o' livin'. Now we didn't have nothin' but some beds; we carried 'em across the hill, and when we got there, there was an old chair there, that was lined with a black skin; scared me. Pa said "Aw, it's just a bear skin. Won't hurt you."

We stayed there a year I think, or more, then we moved to Couches Creek, four miles across the mountain, the divide up there, you know where that was, above the old Cole place. The main divide goes between Mingus's Creek and Couches Creek. And we carried the stuff, what little we had, in there, and holed up in that log cabin. The puncheons [floor boards] was made out of logs and hewed. The' [wudn] nothin' fancy to it. The cracks was in it, but they had the most of 'em stopped. And the walls was logs; they was daubed with mud. We stayed there some years; I don't know how long it was. Must have been about seven or eight years there. Then we moved down to the . . . called the John Smith place, on the creek. This was up in the cove, before we moved down to the John Smith place on the creek. Well, right in there, it all wound up. We must 'a' stayed there about seven or eight years, too.

Now we done all the loggin' out of the cove down to the John Smith place where the saw mill set right over there in that little flat place, sawed all the timber we could get in there, and that helped pay for the place.

We had two yokes of bulls. The first ones was Bob and Bally, and the next ones we got was Doc and Jerge, two red bulls, and these others was big horny . . . one was a bay, and the other was white-spotted, and they made our livin', most of it.

We rented the sawmill. They brought it up: One half for the other.

Well, I'd say that went on for about seven or eight years in there. We worked that, farmed that old land all we could. It got so it would make nothin' much. Pa went to the cotton mills. Took us all to the cotton mills. He thought he'd get more money. I worked in the cotton mill, weaved and all that stuff. He stayed there a while, a year or two . . . come right back to the mountains again, back to the old John Smith place. I don't know . . . he moved three or four times away from there to the cotton mill, before we finally left.

When this loggin' job got done, the saw mill went out. Had some lumber left; they hauled it in to Whittier, on wagons, about thirty miles.
—————
Crossing The River (Interview with Frances David Childers conducted by Dwight Childers 1976. www.Childers-Sheperd.org retains sole copyright)
When I was little — must 'a' been two years old, not over that. I remember — how I done it I don't know. Ma and Pa had our bay mare, and we took that mare. . . . and went across the mountain, up Luftee river, and across that mountain, through the Indian Gap, that 'as the way we went. I know right where it is. We went through there, a little low place in the mountain.

It came a terrible rain, come a great flood through there, down the Pigeon River. Logs, rocks, and everything was comin'. They crossed that river.

Put Ma and me on that mare, and there 'as a big log a comin'. He said go on out there; that mare'll take you through. That log'll get gone before you get there. It did. It went on through, and I remember she laid me down in a bunch of bushes. She sent the mare back. That mare went right on back, got Pa, and brought him across.

Ad the' 'as an old house over there, and they 'as blockadin' – makin' liquor. He said we'll have to go in here an' stay the night. I didn't hear it, but that was what Ma said. I must have been about dead. Well, I remember now, this. We went in. Now these was men of men. The' w'u'dn' no jokin'. They was layin' in the bed, everywhere settin' around was them big rifles, was right there, stickin' up. I remember seein' that. Now how could I remember seein' that, 't that age. Must have been so strange, so much of a thing 't it just banged in there. [I was] about two years old, couldn' 'a' been over that. They was carryin' me. Well, I don't know what happened. We went on. I was too young to remember what happened after that, but we stopped in the Sugarlands – Gatlinburg – we called it Sugarlands then, it was right above there. Well, he went on down through there and rented a little old place somewhere in Tennessee. I never
remember what happened after that. He was huntin' a way to make a livin', a farm, or something like that. He wa'dn loaferin' He tended a little place down there a while, but I don't remember after that what went on. I don't know where we went after that.
—————
I thoroughly enjoyed both interviews. My favorite part of the first one, Moving Around To Make A Living, was the part about the bear skin chair scaring Frances. I bet that was a story told many time through the years by his father and his mother. It reminded me of Chatter. When she was just a little bitty thing being potty trained, she was terrified of a cat shaped toilet brush holder Granny had in her bathroom.
My favorite part of the second interview, Crossing The River, is the part about his mother and him riding the horse across the swollen river and sending the mare back for his father. Back in the day, when The Deer Hunter and I rode horses, I was always scared to cross large creeks or rivers-and the only ones we ever crossed were shallow enough for the horse to walk across. I can't imagine seeing a big log wash down a river then ride a horse across it while holding my child.
If you enjoyed the interviews above as much as I did-jump over to Dwight's site and read some more about Frances David Childers.
Tipper