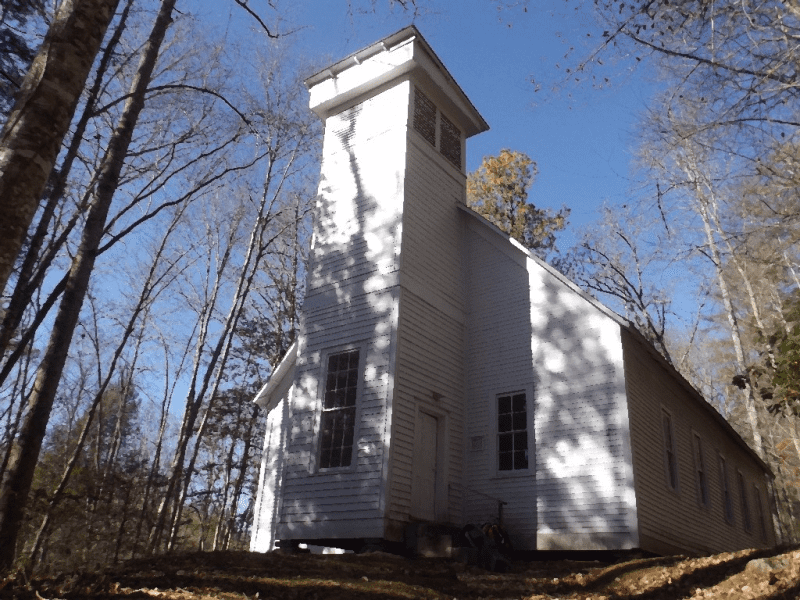 Ever since I stepped foot in the Historic Lufty Baptist Church I wanted to know more about the people who called the area home before it was part of the Smoky Mountain National Park.
Florence Cope Bush's book-Ocona Lufta Baptist Pioneer Church of the Smokies 1836-1939 told me about William Henry Conner. I learned more about William and his son Dock Conner by discovering a reprint of a newspaper article that was published in the Knoxville Journal in 1976, The Saga Of The Dock Conner Family written by Vic Beale. Most interesting was a recorded interview with William Henry Conner which can be heard on the Dictionary of Smoky Mountain English website.
Don Casada shared the story of Robert and Elizabeth Beck Collins in his guestpost Robert and Elizabeth Beck Collins – Pioneers of the Pioneer Church of the Smokies.
I enjoyed learning about the folks above so much, that I kept researching to see if I could find any other firsthand accounts from folks who lived in the Oconaluftee area during the years Lufty Baptist Church was still open.
I searched Ancestory.com; I searched every NC genealogical site I could find; I Googled every imaginable phrase I could think up about people who called Ocona Lufta Valley home and came up with zilch in every instance.
But one day I finally hit pay dirt! I haven't a clue how I found the website full of fascinating stories-I was jumping from one site to another thinking I'd never find anything interesting when bingo I landed on a genealogical treasure trove of Western North Carolina managed by Dwight Childers.
I'll use Dwight's own words to introduce the scope of his website to you:
"The purpose of this project is to discover and remember our ancestors in western North Carolina, and beyond. The name "www.Childers-Shepherd.org" has been chosen simply because it describes our immediate patch on the vast quilt of family connections surrounding us. These two families provide a starting point for our discovery but do not intend to exclude any of our many cousins or any part of our extended families of different names. The limitations are time and energy rather than any rigid notion of what constitutes a meaningful connection."
After stumbling onto the website, I contacted Dwight and he graciously and generously allowed me to share some of his research work here on the Blind Pig & the Acorn. (Dwight will of course retain all copyright)
——————
Today I'd like to share the story of Dwight's ancestors: Thomas Clingman Childers, Jr. (1871-1957) and his wife, Bertha Elizabeth Lambert (1878-1942) both were members of Lufty Baptist Church. Thomas and Bertha were married in Swain County in 1893. They had 12 children, and also raised their grandson, Edward Roberson after his mother, who was their oldest daughter, died. (to see the list of their children go to this page of Dwight's website)
The follow history appears on this page of the site: www.Childers-Sheperd.org.
Several of the children were born at the home Thomas and Bertha established on Couches Creek, near Smokemont, a few miles up Highway 441 from Cherokee. (This is the next creek north of the Mingus Creek Mill, which is now a museum.) They purchased the land of about one hundred fifteen acres from Thomas's half-sister, Sarah Ward Smith. This land later became part of the Great Smoky Mountains National Park. Some descendants have enjoyed hiking up the creek to the old homeplace over the years. The buildings were removed long ago, but signs of habitation, including stones from the old chimney, now fallen, remain.
By late January of 1920 (when the census was taken), they were in the Upper Hominy section of Buncombe County. Children remaining at home were Naomi, Roy, Ruth, Bonnie, Edmund, and grandson Edward Roberson. On 7 May 1930, the census of Beaverdam township, Haywood Co NC, found the family thus: Thomas, 56, farm laborer; Bertha, 52; Bonnie, 16; Henry, 14; Edmund, 12; and grandson Edward Roberson, 12. The value of their house and land was $750.

By 1935, according to the 1940 census (taken on 9 April), the family had moved to the place on what was Wiggins Road in Upper Hominy township, Buncombe County. In 1940, daughter Bonnie, son Edmund, and grandson Edward "Ted" Roberson were still at home. Bonnie was listed with the occupation of "reeler" in a rayon plant; Edmund was a farm laborer; Ted was unemployed. Soon, both Edmund and Ted would be abroad in active service in different theaters of World War II. (Ted enlisted 18 Jan 1941 at Fort Bragg, NC; Edmund enlisted 22 May 1942 at Fort Jackson, Columbia SC.) According to a family story, Thomas stopped shaving when the boys left home and pledged to resume only when both boys had safely returned from the war.
——————
I hope you enjoyed the first taste of information from the www.Childers-Shepherd.org genealogy website. Come back tomorrow when we'll hear from Thomas and Bertha's oldest son Francis David Childers (1893-1983).
Tipper
*Source: www.Childers-Sheperd.org. Dwight Childers retains sole copyright of material.