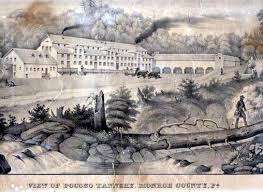 (Photo by Monroe County Historical Association)
Private Michael Tanner (1759-1849)
Revolutionary War Soldier Buried in Old Choestoe Cemetery by Ethelene Dyer Jones
The marker for Revolutionary War soldier, Private Michael Tanner, stands about in the middle of Old Choestoe Cemetery.  A simple marble monument, it is unpretentious and one might pass it by, not recognizing its significance or the contribution the soldier made to America's freedom.
Michael Tanner was born December 4, 1759 in York County, Pennsylvania.  His surname came from a trade name meaning those who followed the profession of tanning animal hides for leather.  The earliest-known progenitors of Michael Tanner originated in Germany, moved to Holland, and then migrated to America in 1721, settling and plying their trade in the Pennsylvania colony.
When Michael Tanner was 18, in 1777, he enlisted in the Continental Army in Shenandoah County, Virginia.  His first military encounters were to protect settlers against uprisings of Indians.  Then he engaged in skirmishes with the Tories who were faithful to the British crown.
When the Revolutionary War officially began, he served first under Captain Raider, General Hand and Captain Mason.  His regiment moved to Fort Wallin on the Ohio River.
He next saw service on the South Branch of the Potomac River where he was under the command of Captain George Huston and Colonel Simms.  He fought in Rockingham County, Virginia under Captain John Rush and in the Virginia Regiment headed by Colonel Harris.
The highlight of Private Michael Tanner's service was at the Battle of Yorktown when General George Washington engineered the surrender of British Field Commander, Charles, Earl of Cornwallis.  There 8,000 allied Continental Army forces converged, together with allies of 15,000 French soldiers and 3,000 militiamen.  The contingents prevented British reinforcements from arriving by sea.  It was a tense confrontation.  Alexander Hamilton was in charge of America's light infantry.  In negotiations, General Washington secured the surrender of Cornwallis on October 19, 1781.  Did Private Tanner hear, from the British ship in the harbor, the somber strains of "The World Turned Upside Down?"  We can only wonder.  The peace treaty was signed in Paris on September 3, 1783.
Private Tanner returned to Rockingham County, Virginia.  There, on July 14, 1782, he married his sweetheart, Catherine Butt.  The young couple migrated to Buncombe County, NC, and eventually to Choestoe in Union County, Georgia before 1838, joining some of their children who had settled here.
Known children of Michael and Catherine Butt Tanner are Mollie Tanner Ross, Elizabeth Tanner Ellison, George Tanner, Sally Tanner,  Catherine Tanner Harkins and sons Jacob, Adam and Abraham.
Michael Tanner applied for a Revolutionary pension, using his father's German Bible to establish his birth date as December 4, 1759.  Catherine Butt Tanner preceded her husband in death, dying April 12, 1842.  We assume she was interred in the Old Choestoe Cemetery in an unmarked grave.  Private Michael Turner died seven years after his wife on August 25, 1849.  In 1989, his great, great grandson, Dr. J. Allen Henson, had a military marker erected in memory of his ancestor.
Pvt. Michael Tanner was a neighbor to our Dyer, Souther, Collins, Hunter, Townsend, Nix and other ancestors, early settlers in Choestoe community.  Their daughter, Catherine, married a Harkins.  An error in transcribing occurred in the marriage entry of Bluford Lumpkin Dyer who was listed as marrying Rutha Tanner on February 9, 1854.  Rutha was a Turner, not a Tanner.
On November 3, 2001, the Blue Ridge Mountains SAR and the Old Unicoi Trail Chapter DAR held an impressive memorial service at the gravesite of Private Michael Tanner in Old Choestoe Cemetery.  It was a worthy tribute to an humble soldier-farmer whose ancestors came to the shores of America in 1721 seeking freedom.
[Resource:  Dr. J. Allen Henson, biographical sketch of Private Michael Tanner.  This sketch written by Ethelene Dyer Jones.]
—-
Things I found fascinating in Ethelene's post:
His surname being Tanner because his family were actually tanners of hides.

Pvt. Michael Tanner was a witness to more than one historically significant battle of the Revolutionary War, makes me wish he'd written down his experiences.

Tanner and his sweetheart wife moved to Buncombe County, NC before moving to the Choestoe area of Union County GA which borders Cherokee County NC. Seems many folks landed in Buncombe before moving farther west. Reminds me of a saying I've heard all my life: "The State of NC doesn't realize the state boundaries extend beyond Asheville (which is in Buncombe County)." In other words, folks around here sometimes think the far western mountain counties of NC get the short end of the stick.
Tipper