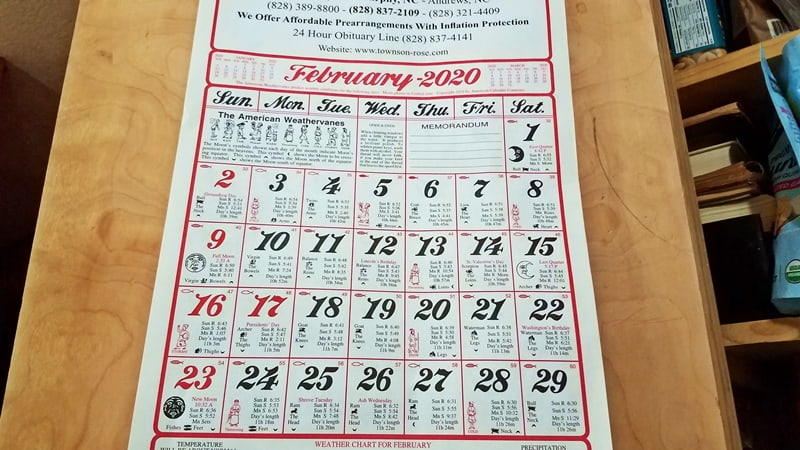 The planting calendar I used back in 2020
Every January I publish a post looking back on the things I've written about as well as a post about what my hopes and goals are for the coming year. I'm running late on both posts this year due to my bout of sickness, but hope to share them in the next few days.
Another thing I do this time of the year is make sure I have a planting calendar for the coming garden. Over the years Papaw Tony would often pick one up at the Champion Credit Union in Canton, NC and mail it to us. Another avenue I had of getting them was from a friend who worked part-time at a local funeral home. As soon as they started handing the calendars out in November and December she would bring me two to work—one for me and one for Granny.
This year I sort of let things slip away from me and wasn't able to lay hands on a planting calendar. Miss Cindy came to the rescue and found that Wayne's Feed Store in Murphy offers them to customers. So Granny and I are now ready to plant and ferment during the year of 2022.
When Miss Cindy brought the calendars over I went to replace the one I had hanging inside the pantry door. My planting calendar from 2021 is still here on my desk, the one in the kitchen was the leftover calendar from my working days.
After I took it down I couldn't resist looking back to January 2021 to see what I was doing this week. The notes on my calendar told me I was deep in the process of booking and managing weekly Morningsongs for the Folk School. My notes in the margins told me I was also busy shipping catalogs and updating their website.
I stood in the kitchen and looked at my notes from a year ago and felt a strange detachment from my own handwriting.
In January of 2021 I had no idea that by the time the year was half over I would turn in my notice and begin the wonderful journey of working for myself doing what I love most, celebrating Appalachia.
The world of a year ago seems so very far away. My mind is in a totally different place. The importance of the things that sit before me each day have quickly and totally risen above the responsibilities I had at my place of employment.
Amazing how looking at an old calendar brought an avalanche of thanksgiving and gratefulness to my heart.
If you haven't got your planting calendar be sure to check at your local feed stores, banks, and funeral homes for a place to pick one up.
---
Last night's video: Woodstove Usage & Folklore in the Appalachian Mountains.
Tipper
Subscribe for FREE and get a daily dose of Appalachia in your inbox