Today's guest post was written by Jim Casada.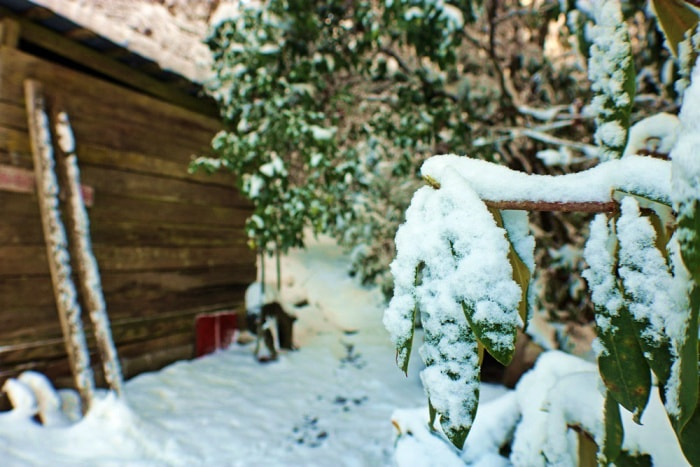 Fond thoughts of Januaries in yesteryear run through my mind like the soothing sound of a gurgling mountain branch or the visual delight of a land bedecked with freshly fallen snow. By February winter would have become somewhat tiresome, producing mollygrubs or cabin fever, but the year's first month somehow had a delightful distinctiveness to it. Here are some of the things I recall about January from a Smoky mountain boyhood filled with magic and mystique. They are present in a literary format some readers will likely find familiar, and accordingly I'll pose two matters for your thoughts. First, how many of these recollections do you also recall? Second, can you name the beloved writer who often used this style?
*January was the joy of a snow heavy enough for schools to close, and when that happened there would be snow cream and sledding, construction of snow men and snowball fights, or scrumptious tummy warmers such as hot chocolate or Russian tea when you came indoors. Old timers would talk about how welcome the "poor man's fertilizer" was and indulge on fireside prognostication about snows still to come.
Those homespun weather wizards relied heavily on signs—things such as "chimney smoke hugging the ground, waiting for more snow to come around" or sun dogs in the afternoon after skies had cleared—as harbingers of what was to come.
*January brought one or two snaps of bitter cold, with rhododendron leaves curled up tight as a Cuban cigar and icicles decorating every seep spring and low-lying streamside bush.
*The month meant mighty fine eating—cracklin' cornbread and soup beans, pot likker and baked sweet taters, cathead biscuits and smokehouse ham, fried apple pies and fruit sauce for the sweet tooth. It was a fine time to look back with fondness on the hard work that produced winter fare.
*January was howling winds and hoarfrost, rime ice and freezing rain. It was bitterly cold mornings with frost so heavy that, as a reader of this blog, Ken Roper, once put it, "you could track a rabbit."
*The month was a mountain lad checking his steel traps for muskrats, 'coons, 'possums, and maybe the occasional mink. It was that same irrepressible youngster making a circuit of his rabbit gums to see if they had trapped a cottontail or two.
*January was the hallelujah chorus of a pack of beagles hot on the cottontail trail; the unforgettable image of a fine pointer staunch against the skyline as it locked tight on a covey of quail or a grouse (which mountain folks often called pheasants).
*The month was the warming solace of a cheery fire, with family and friends gathered round for a session of walnut picking, quilting, or maybe just pleasant conversation.
*January's bitter evenings were lightened and brightened by listening to grand radio offerings—The Lone Ranger, Gunsmoke, Amos 'n' Andy, or maybe the wonderful music of Hank Williams, Lefty Frizzell, Patsy Cline, Marty Robbins, and others coming to the living room thanks to WSM out of Nashville or the Wayne Raney Show on WCKY out of Cincinnati, Ohio—"50,000 watts of pure power."
*It was the singular treat offered by a baked hen who found her way to the Sunday dinner table thanks to having come up woefully short in her egg-laying duties, and if you were passing lucky, you might get a go at the little rows of eggs in the making lining the inside of the carcass. That was a treat, one fulfilling the words of the grand Bobby Bare song, "Chicken Every Sunday, Lord," and about the only foodstuff as treasured was a stack cake made using locally produced molasses and apples dried the previous fall.
*It was a month for new beginnings, for sessions of what my Grandpa Joe called "dreaming and scheming," for putting functional Christmas gifts (Duxbak clothing, new long handles, a boy's first gun, a new knife or hatchet) to the test of practicality.
Those long ago Januaries were a time filled with simpler days with simpler ways, and for my part I miss them a great deal. Still, I have the undeniable benefit of being able to look back with longing and dig through memory's fond vaults for the abundant times of jubilation January could produce. If you are blessed to share some similar things to recall and have known such experiences, tell yourself you've been mighty fortunate. For that means, deep in the echoing sound chamber of your mind, that January is calling you home as you harken back to the enduring, endearing richness of Appalachia.
—Jim Casada
---
Tipper
Subscribe for FREE and get a daily dose of Appalachia in your inbox