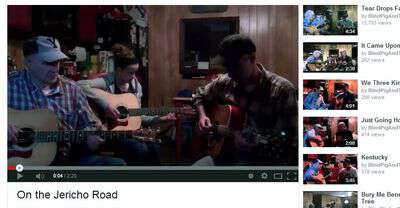 In 1928 Don and Marguerete McCrossman penned the song As We Travel Along On The Jericho Road. The title is often shortened to The Jericho Road. A few years later, in 1933, the song was copyrighted by the Stamps-Baxter Music Company.
The Mudcat Cafe is my favorite source for old song information. According to the great contributors on the Mudcat website, the song was first released in 1934 by the Propes Quartet. The Chuck Wagon Gang recorded the song in 1941. Other performers you might have heard sing the song: Jim and Jesse, Elvis, and Merle Haggard. We've all become slightly obsessed with Haggard's version-its really good.
Most folks who do the song perform it in a gospel quartet style-so Pap and Paul's duet is different than what you usually hear-if you're familiar with the song.
Hope you enjoyed the song-it sort of sticks in your head so you may be enjoying it for the rest of the day!
Tipper