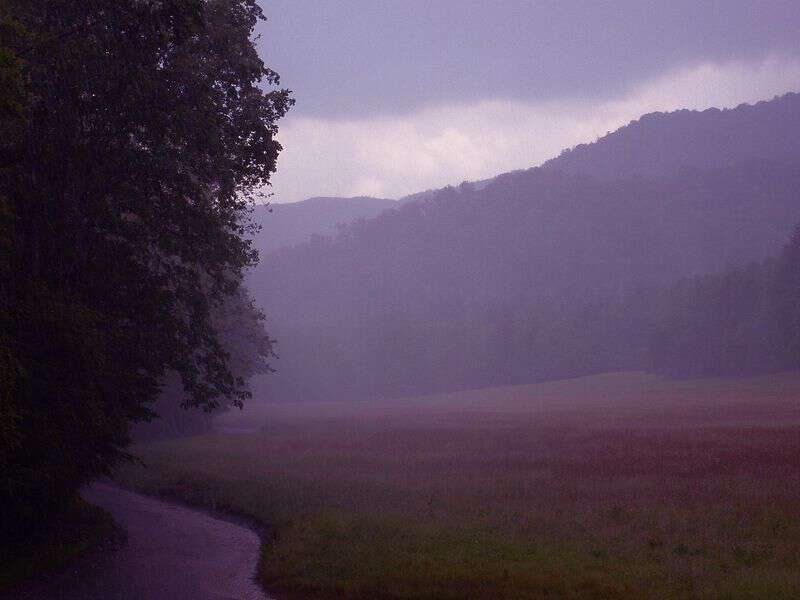 There has been devastating flooding in Western NC and North Georgia as hurricane Fred tracks its way north.
Our county had flooding issues in several areas. Thankfully by the time Fred moved on we had only suffered a washed out driveway, a little water in the basement, and a small pond in the chicken lot.
Folks in Haywood County NC had a really rough go of it and there are still people unaccounted for. A news article I read about the damage called the portion of the storm that went through the Cruso area of Haywood County a microburst. As a result of the massive dump of rain folks living in Cruso and the Lake Logan section suffered mightily.
A microburst is what we call a cloud burst.
I've heard the term cloud burst since I was a kid. One frightening story I remember actually came from the same general are of the recent microburst.
I was living in Haywood County and working at Lake Logan which at that time was a meeting facility for Champion International. The caretaker of the grounds told me about a cloud burst that happened farther up the river when he was a young boy that washed houses away and even washed some people over the dam—specifically in his memory, a lady who still had her gown(d) on.
Another story I heard about a cloud burst came from the Travel WNC, a project of Hunter Library Digital Programs and Special Collections at Western Carolina University. The following article about a cloud burst is from 1905.
TRAIN STALLED IN TUNNEL
"Over 100 Passengers Cooped Up All Night on the Murphy Branch – Numerous Washouts On Account of Cloudburst. Special to The Observer.
"Asheville, July 12. – A special this afternoon from Andrews, on the Murphy branch says: Heavy rain, practically a cloud-burst, last night caused numerous washouts, flooding the track over two feet for half a mile, near Topton. A number of trestle supports were carried away, paralyzing traffic. Train No. 19 stalled in a tunnel five miles east of Andrews. Over a hundred were on board all night. The trestle at the east entrance of the tunnel gave way on the passing of the rear coach, and ditching was narrowly avoided. The train was brought to a stop in the tunnel. Investigation ahead revealed another washed-out bridge 50 feet from the west end of the tunnel. The train is still unable to proceed either way. The coaches were packed with people, two in a seat, some standing all night. Many women and children attending the Topton barbecue were aboard. A majority of the passengers walked to Andrews over the flooded tracks for breakfast. The wires are crippled."
—Charlotte Observer, July 13, 1905
---
My heart goes out to all those effected by the flooding from hurricane Fred.
Tipper
Subscribe for FREE and get a daily dose of Appalachia in your inbox