This morning it was 36 in Brasstown-fall has definitely arrived and old man winter seems to be knocking on the door. With the cooler weather I'm still thinking about foods I like to eat in the fall of the year like Granny's Soup and Applesauce.
My favorite Apple Pie-is one made with Miss Cindy's Blueberry Pie recipe. But sometimes you want something easier and quicker-like Mary Jo's Apple Pie.
When I was growing up-every summer Mary Jo had the Elliott reunion at her house. We didn't always get to go-but when we did there was always tons of good food to sample-and one of our favorites was her apple pie.
Since Mamaw Marie died suddenly of a heart attack when I was in 5th grade-most of my memories of being at Mary Jo's don't include her. Oh I have lots of memories of Mamaw-she babysit me for Granny so I spent lots of time with her-but as I've gotten older I realize I wish I had more. Since I was in 5th grade when she died-it wasn't like I ever ask her about cooking or gardening-things I wish I could ask her now.
A year or so ago I was thinking about Mamaw and wishing I could ask her about the old days-about the early years of her life. I grabbed the phone and called Great Aunt Mary Jo. I told her "I've been thinking about Mamaw. Pap has told me lots about her-but I wanted to see what you could tell me." Well she said she didn't rightly know what I meant. I said anything-just tell me anything your remember. So she did the first memory that came to her mind was about Mamaw's bravery: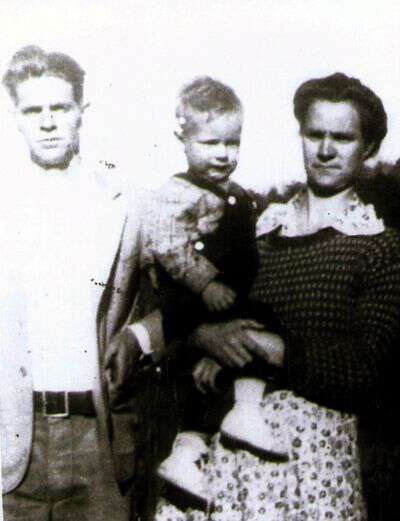 Mamaw and Papaw sharecropped on the Harshaw Farm, Mary Jo went to spend the night with them. Papaw was an avid fox hunter and was gone off hunting-leaving Mamaw, Mary Jo-and maybe Pap (if he was born yet-Mary Jo couldn't remember) home alone. Mary Jo said suddenly someone began knocking on the door and yelling. After Mamaw saw who it was, she wouldn't let him in. He was hollering for Wade (Papaw)-and he was very drunk. Mamaw told him through the door "Wade is not here you'll have to come back some other time." Mary Jo said it took some persuading from Mamaw but finally he gave up. Or so they thought. In a few minutes they heard him trying to get in the bedroom window. Mamaw stopped him at the window and told him "Wade is not here and you are not coming in this house." He said what he wanted was a cigarette. She told him she didn't have any and he needed to go on down the road and come back when Wade was home.  Mary Jo and Mamaw watched through the window as he finally left, walking out under the trees until he disappeared from sight.
The 2nd memory she shared with me was funny-and so reminded me of my girls when they were little:
Mamaw was one of the oldest children in the large family-and Mary Jo and Frances were 2 of the youngest. All 3 were walking to Bethel Church. Frances announced she wasn't going to walk anymore-not one more step. Mamaw told her she had too. After they went a little farther, Frances said she needed to tell Mamaw something, she needed to whisper it in her ear. Mamaw bent over to let her-and Frances grabbed her around the neck refusing to let go until Mamaw carried her the rest of the way to church.
By sharing the memories above, Mary Jo didn't think she told me anything much. But she did. She gave me a peek into Mamaw's life when she was a girl still living at home taking care of her younger sisters and when she was a young woman married with a home of her own.
Mary Jo's Apple Pie
1 frozen pie shell (or you could make your own)
2 cups chopped apple
3/4 cup sugar
2 tablespoons of water
1/2 stick of butter
1 tablespoon of all purpose flour
1 teaspoon cinnamon
1/2 teaspoon salt
1 egg
Only takes 2 or 3 apples to get 2 cups of chopped apple. Put the 2 cups of apple in a small sauce pot with 2 tablespoons of water. Cook for 5 minutes–checking to make sure it doesn't scorch.
Pour cooked apples into an unbaked pie shell.
Melt butter-remove from heat-stir in 3/4 cup sugar, 1 tablespoon plain flour, 1 teaspoon cinnamon, 1/2 teaspoon salt, and a slightly beaten egg.
Pour mixture over apples. Bake in a 350 oven for 35 minutes.
Mary Jo's Apple Pie is the best straight out of the oven-but it's good cold too. A slice with a cup of coffee makes a dandy breakfast.
Tipper