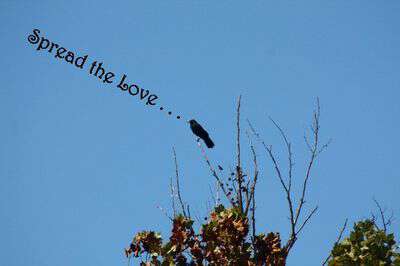 I'm sending out a big THANK YOU to all the folks who took the time to comment during the month of September.
Every comment you leave-truly makes the Blind Pig a better place to visit:
Janet, Just Jackie, Julie at Elisharose, Miss Cindy, Brenda Kay Ledford, Osagebluff Quilter, Terry, Warren, Lanny, The Fishing Guy, Petra Michelle, David Templeton, Nancy M., Glenda, Fencepost, Rick's Whitetail Woods, Mary Life In A Cordwood Cabin, Farmchick, Paul Saltcreek, Patty Hall, B. Ruth, CheE, Vicki Lane, Ethel, Eva Nell Mull Wike, Ph.D., Sarah, Wanda, Stacey South Western PA, Lynn, Pat in East TN, Teresa, Jen,  Sandra, Betsy from Tenn, Granny Sue, Sheryl Paul, Kenneth M. Roper, Anastasia, Mike McLain, Kim Campbell, Rachelle, Connie, Greta Koehl, Helen G, Nancy Wigmore, Susie, Nancy Simpson, meemsnyc, Kenneth O Hoffman, Mamabug, Cher'ley Grogg, Em, Janice MacDaniels, Clint, Kat, Cheryl Soehl, Elithea, Pointless Picks, Lonnie Dockery, Gary, Canned Quilter, Boyd Guthrie, Kathryn Magendie, Terry Allen S, David N Lee, Jim Casada, Donna, Staci, Leslie, Rhonda J, Jill, Don Casada, Janet P, Linda, Rooney Floyd, Charline Venturini, momof 3nOK, Vera Guthrie, Barbara Gantt, Jeanna M, Garland Davis, My Carolina Kitchen, Elizabeth, Betty Gulledge, MissFiFi, Twosquare, TheKnects, Linda Crabtree, Patrick Tomlinson, Vickie, Michelewass, Judith Alef, Lise, Louise, NC Mountain Woman , Nicole Ross, Helen Turnage, Susan , Stella Jones (Star), Marilyn, Martin H , Larry Blount, Stephanie D, Dana, Sandy, Janet C, mswnana, Carol The Writers Porch, Dilli, Grandma Sallie, Ferne, CJ, Tammy, Melissa P, Debbie, Mary Lou McKillip, Heather Feather, Karen Adams, Mindy, Larry Proffitt, Jay Baird, Nina Chastain, Annie Jones , Rachel D, Rhonda Haslam, Sharon D, Jan Beck, TBall, Hummer, Tulsa Jack, Granny Pam , Joe Penland, Carrie, Kristin Jordan, Karen, Pat, Whitney, Linda Lacy Duvall, Kim B., Roger Hartley, Wilton Lewis, Phyllis Salmons, Cindi, Stephen Craig Rowe , William, Kayla Crisp, Cathy Tadpoles & Teacups, Diana, Haystack Jackson, Mo and Tom.
Since Vicki Lane generously offered to giveaway a copy of her new book-The Day of Small Things-I have 2 giveaways to announce.
First up-for Vicki's new book-the winner is Judith Alef!
And for September's Spread the Love prize-I'm giving away another Vicki Lane book. When I was getting ready to interview Vicki-I discovered I had 2 copies of Art's Blood which is the 2nd book to the Elizabeth Goodweather Series.
So who wins my extra copy of Art's Blood….Sandra from MadSnapper A.K.A Snapperone.
Don't forget to click on a commenter's name above and go for a visit-I know you'll be glad you did.
Tipper