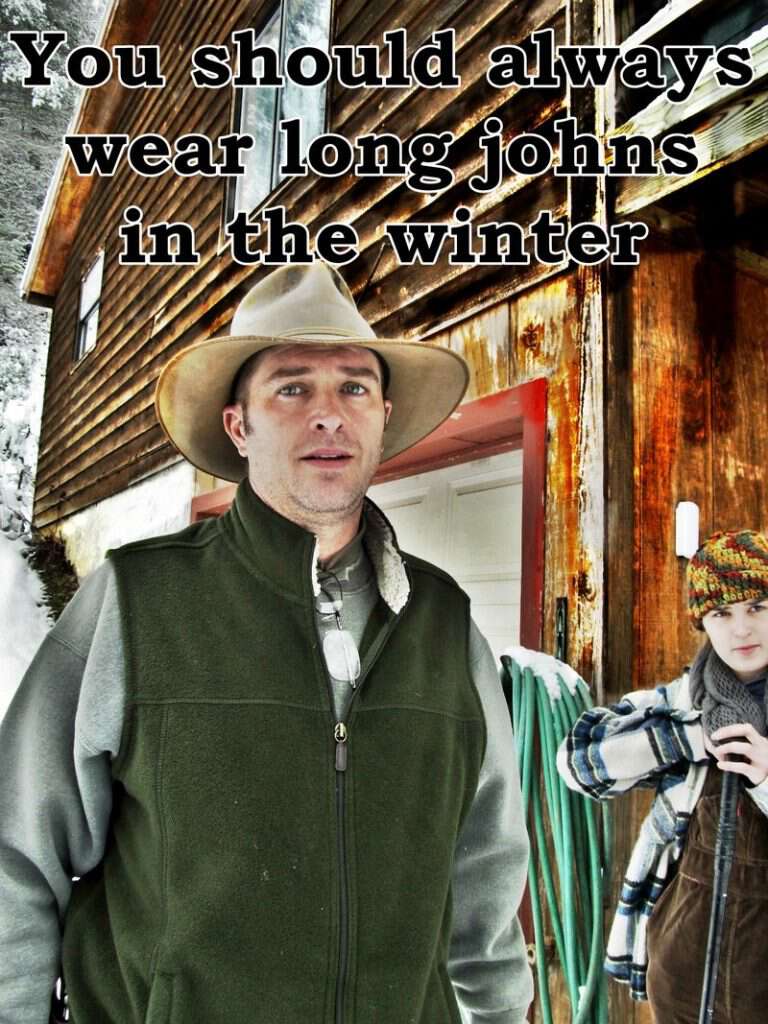 Last February Barbara  left this comment on the Blind Pig:
Just wondering…what do you know of the different names that folks call these clothes I'm wearing under my street clothes these cold days? You know…long underwear, thermal underwear, Long-handled underwear, etc.  (I own a pair of red one-piece with the back flap, but that darn flap won't open as quick as I need it to!) I would love to hear your name for them! My best to you and your girls!
—————–
Like Barbara I've heard the clothing called long handles, long underwear, and thermal underwear. I call them long johns so we can add that to the list. I've also heard them called long drawers so thats another name.
I've heard the one piece ones called union suits and union-alls.
With the chilly temps we've been having the girls wore their long johns to school under their regular clothes at least once this week. I can't stand to wear long johns unless I know it's going to be brutally cold or I'm going to be tumbling off a sled into the snow. Oh I get cold-anyone who knows me will tell you I'm extremely cold natured-I've been known to get cold in July. But I also get itchy and wearing tight clothes under my clothes sometimes makes me want to go running into the hills screaming. I guess I don't like feeling restricted or confined.
Pap and Granny have an old oil heat stove. Its outdated and seems to be giving them trouble more and more each winter. The other day it tore up and it took Pap all day to get it to running again. Granny said "We got so cold in the house that both of us had to go put our long handles on before your Daddy got the stove fixed." In recent years I've noticed Pap wears a long john shirt under all his button up shirts in the winter. He's gotten to be cold natured in his old age.
When the girls were little they had some of those union suits Barbara was talking about, in fact they had a red Oshkosh one. Funny how certain pieces of clothing sticks in your mind. Every time I put that red union suit on one of the girls to sleep in I thought they were the cutest thing I ever saw.
So what do you call them? And do you wear them often?
Tipper