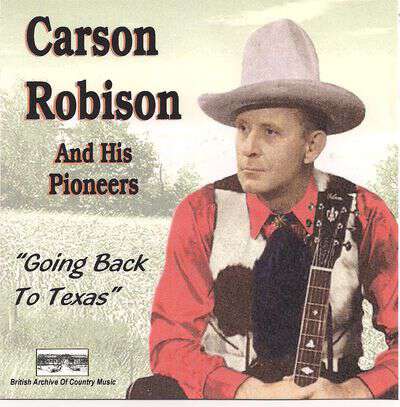 On August 4, 1890, Carson Robison was born in Oswego, KS. Robison had many occupations over his lifetime, most of them centered around life on the prairie. He was a farmer, a cow puncher, and an oilfield worker. Robison was also a song writing musician who had a unique whistling talent-he was able to whistle in 2 part harmony at the same time. Robison was nicknamed The Kansas Jaybird.
In 1904 he penned his first song Anthem. By 1924 he made his first recordings with Victor Records laying down the tracks Songbirds in Georgia and Whistling the Blues Away.
Throughout the coming years, Robison formed his own band, Carson Robison and His Pioneers. The band traveled throughout the US and abroad even performing for King George and Queen Elizabeth.
In 1971 Robison was inducted into the Nashville Songwriter's Hall of Fame.
Nashville Song Writers shared the follow quote on their website which gives us a glimpse into Robison's mind:
"Nature and tradition have been my best sources for material. I've learned plenty of things from her and I reckon most people could write songs about the odd characters, odd happenings right in their own backyard. I'm not aimin' to hand out any advice on how to write songs. I don't think there's a set formula for the work. My heritage and tradition has come down to me from the covered wagon days and I suppose there couldn't have been a better background for my efforts. I just hope they keep that tradition alive long after I'm gone and I hope my son carries on after me."
Paul and Pap learned one of Robison's songs from Granny's uncle, Henry Truett. Other than Uncle Henry, Marty Robbins, Doc Watson, and Fret Killer (of Youtube fame)-they've never heard anyone else sing it. The title of the song is Little Green Valley-its a great song take a listen and see if you don't agree.
I hope you enjoyed the old song-it's got a catchy tune. And who wouldn't like to live in a Little Green Valley like the song describes?
Tipper
*Source: Nashville Songwriters Foundation