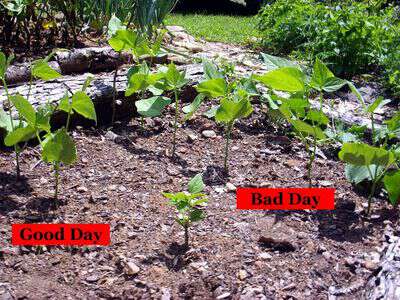 It's been a few weeks since the 4th Annual Blind Pig & the Acorn Planting by the Signs Test kicked off, so I thought it was time for an update (if you're a participant and would like to tell how your plants are fairing-just leave a comment on this post) Sow True Seed sponsored the sign test and my garden this year.
I got my seeds planted on the appropriate days-4 on the good day-4 on the bad day. As you can see from the photo above-my bad day plants are a good bit larger than my good day. All of my bad day seeds came up-while only 3 of my good day seeds came up. All but one of my plants look very healthy and strong-even though they are different sizes.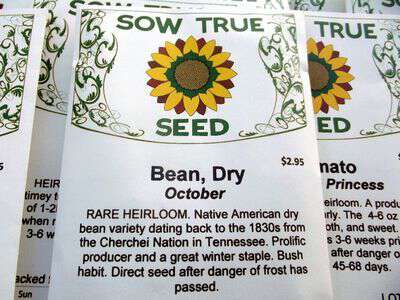 Over the weeks since the test started a few participants have updated me -you can see how they're doing below. (if you're a participant and would like to tell how your plants are fairing-just leave a comment on this post)
*Warren: Mine sprouted super fast and are incredibly strong looking so far!
*Julia: I planted two of my october beans on 5/18 – moon in the dark phase, and the signs were in Aries (killing).
I planted three more of my beans on 5/22 – moon in the light phase, and the signs in Gemini, supposedly the very best sign for beans.
I planted three more of my beans on 5/24 – moon in light phase, and the signs in Cancer (fruitful).
By 5/24, the first pair of beans planted on 5/18 had sprouted and looked OK. Went camping for Memorial day weekend. Got back on 5/29. One of the 5/18 beans had a little bug damage. Two of the 5/22 beans and one of the 5/24 beans had sprouted. Some bug damage on both the 5/22 & 5/24 beans. Moved them all to a new, sunnier location and sprayed w/ neem. Hope the bugs let them alone long enough for them to get some size on them so I can transplant into the garden!
*Tammy: Poked my seeds in the ground today and flagged them. I planted them in the rain and the same gentle rain continues here…..perfect transplanting weather. Four seeds, I expect to see a crook or two by Saturday!
*Linda Kerlin: I did get my 4 seed in on the good day 23 May and 3 of them have sprung up their heads thru the mound they now call home on 1 June. Bad day seeds went in on 26 May and they too have poked on thru, but once again only 3–also saw them for the first time on 1 June. The 3rd bean planted on both side of the fence whether it is a good day seed or a bad day seed sitting directly across from each other have not shown their face to me—I find that a bit odd to be exactly at that same area—do you too, find that interesting? Planted both sets midday.
*B. Ruth: One bean came up on the bad day planted ones…….No beans came up on the good day ones…..I don't know why….there is one little sprout that looks like it might be a bean in the good day patch….but all those were planted first so I don't what happened to them…..I know they were heirloom beans….I know for sure one was cracked in two pieces…didn't plant that one..Roy said on the good day that two of the beans looked like they were open a tiny bit so they could have been damaged as well…..I have never had beans that at least 85% of them came up..Weird….Maybe my one bean plant will be a Jack in the Beanstalk plant….LOL
That's how the test is going for now-and I'll let you know how it progresses.
Tipper