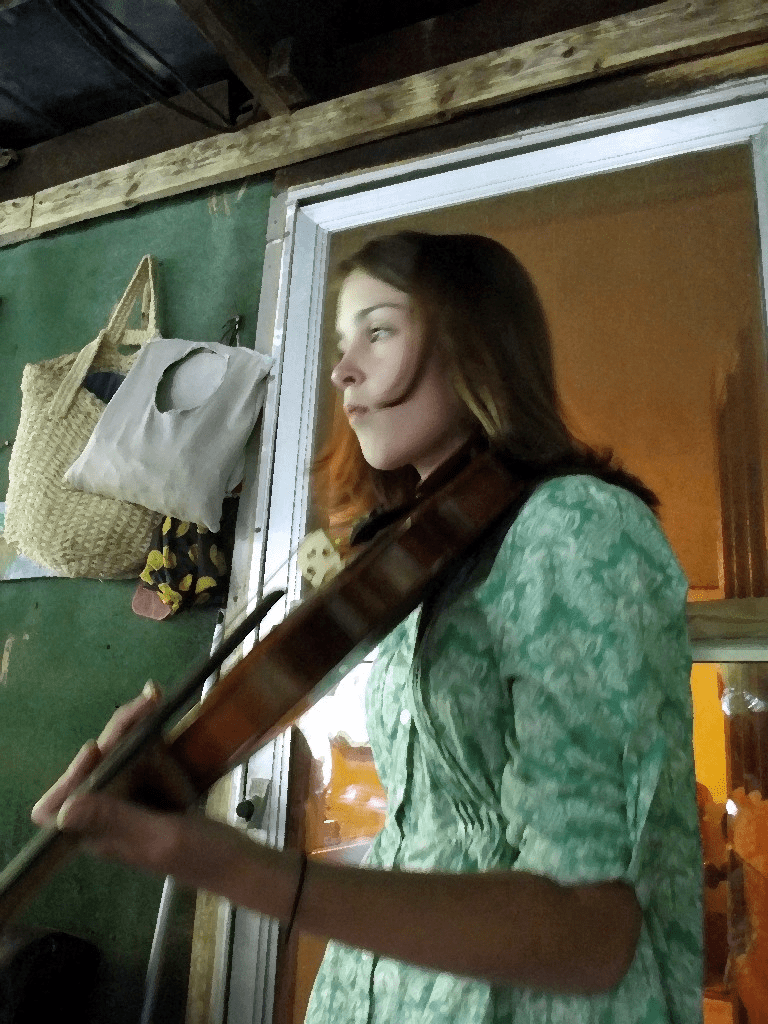 I'm sure I've told you at some point-but just in case you missed it-the Blind Pig Family is not made up of night owls. We go to bed early. Sometimes I wish we were people who stayed up late.
Yesterday evening after a full day of work for me and The Deer Hunter and a full day of Little Middle Folk School for Chitter and Chatter we headed out for a place way up in the mountains above Cashiers, NC. Its called Caney Fork-and is just below a place called Little Canada.
Another thing about the Blind Pig family-2 out of 2 get car sick all the time-the other 2 get car sick about half the time. Being tired, hungry, slightly nervous, and sitting in the backseat of car you've never been in around winding curves you've never driven-usually makes it 4 for 4 when it comes to being car sick.
So why would we put ourselves through such an evening knowing 5am would come early the next morning? To travel back in the mountains, sit on a porch like my Granny Gazzie's and make music. The green siding on the house, the flower pots sitting on the railings, and the outbuildings all made me feel like we had traveled back in time as well.
We visited Henry Queen-maybe you've heard of him or his mother Mary Jane Queen? The Queen family is well known in Western NC for their love of music. Mary Jane passed away a few years ago, but her love for the ballads and songs she learned as a child have been passed down through her family-and beyond. I can't help but think she'd be pleased to see her porch full of young musicians learning from her son in preparation to go out and share music with others.
The music was amazing-the company was good-but I also felt a bitter sweetness sitting on that porch. Maybe it was because the house reminded me so much of Granny Gazzie's that sits empty now. Maybe its because I know those old house are far and few between these days and so are the people who used to inhabit them.
Ever since we left the Queen home I've been thinking of the Front Range song- Way Back In The Hills. I taped the video below back when I first started the Blind Pig-its just as good today as it was back then-see if you don't agree.
As we headed home after the music making, me and the girls were all car sick-luckily The Deer Hunter wasn't. After the 2nd stop at a closed gas station to get a drink out of a machine I said "You know what? We're all a bunch of babies we can't even stay up past 8:30 without getting sick." Everyone in the car agreed with me. "But" I said, "Even though I feel so miserable-I'm so glad we went." Everyone in the car agreed with me on that too-so it was all good.
Tipper
Appalachia Through My Eyes – A series of photographs from my life in Southern Appalachia.