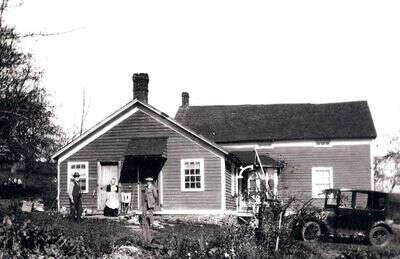 I came across the game Old Granny Wiggins Is Dead in the Foxfire 6 Book. The name grabbed my attention, then after I read the entry I decided it was a game I would have played when I was a kid if I had only known about it-heck I might play it now if I can find someone silly enough to play it with me.
In the Foxfire 6 Book Pearl Bates described the game like this:
You get as many players as you want sitting or standing in a circle. We usually sat outside in the grass. The the lead person says, "Old Granny Wiggins is dead." And the next person says, "How'd she die?" And I say, "She died this way," and I do something like wave my left hand up and down, and keep on waving it, and that next person has to start waving his or her hand the same way. I repeat the same sequence with every person in the circle until they are all waving the same hand. When we've come all the way around the circle and they're all waving. I start a new round and add some motion this time like waving the other hand the same way. We go all the way around the circle until everyone is waving both hands, now. Then we used to add patting one foot and go all the way around, and then add patting the other foot, and then bobbing our heads. When everyone in the circle then is waving both hands and patting both feet and bobbing their heads, I give a signal and we all fall over dead on top of each other. We'd get a big laugh out of how we'd fall. We always did pretty much the same sequence with the hands and feet and head, but I guess you could add other signals like wagging a shoulder or something if you wanted to.
Have you ever heard of the game Old Granny Wiggins Is Dead? If not would it have been a game you would have played?
Tipper
*Sources Foxfire 6