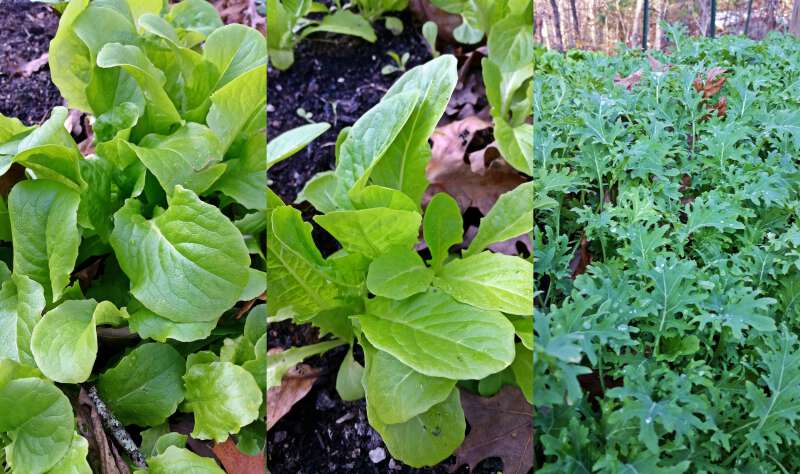 This year Sow True Seed graciously donated extra lettuce seed so that I could deputize @ Large Lettuce Reporters during the fall gardening period. There are 12 folks taking part in the lettuce reporting including me.
Here's a short update from myself and another reporter @ large.
—————-
Tipper:
As you can see from the photos above my lettuce from the reporting project is doing great! I also planted some Sow True Seed Kale and it's coming right along too.
My other report comes from Don Tomlinson:
I'm behind in reporting the results of my lettuce project as well as a few other things I'd intended to have done by now.  Anyway, back to the lettuce.  I'd never planted lettuce in the fall but figured it would be a welcome addition to our other greens. Long story short, I was a bit skeptical about planting it this late as I usually try to have mustard and turnips sowed by mid August. That being the case I only planted about half of each pkt. It came up pronto and was looking promising but when it was about 3 to 4 inches tall, a big doe and her yearling fawn wiped it out in one visit. Guess I'll try again in the spring and put it in a cold frame with some chicken wire over it.
—————-
If you missed the details surrounding the lettuce reporting @ large project go here. And if you want to see the first update go here.
Tipper
p.s. If you missed the hoopla-The Pressley Girls have their very first cd! Go here to get one!