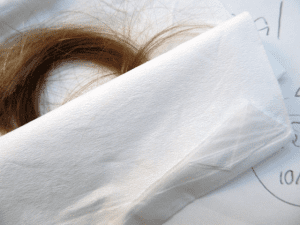 Over the weekend the girls and I were in clean out mode. We were going through boxes of stuff that hadn't seen the light of day in years.
As I flipped through old cards and photos, I came across two sealed envelopes. On the outside I had written the girls names and a date. Inside was a lock of hair from their very first hair cut.
I opened one and held up the hair for the girls to see. They both said something like "Sick what is that?" Their attitudes changed once I told them the hair was theirs.
Later in the day we came across an envelope of The Deer Hunter's hair with Miss Cindy's handwriting on the outside.
I thought about how weird and how sweet those locks of hair are. My own lock of hair is safe in my top dresser drawer. Granny gave it to me a long time ago. She saved my ponytail the first time I ever had my hair cut short.
Keeping locks of hair is certainly not regulated to Appalachia people have been saving and giving locks of hair practically since time begun. The book How Did It Begin? written by Dr. R. & L. Brasch says "…although the act of keeping or giving a locket of hair is considered charming, the origin of the tradition was to dominate the hair donor."
The gift of a lock was an act of surrender, based on the ancient superstition that the hair was the seat of ones vital spirit. Whoever had even a single strand of it was able to influence or bewitch the person to whom it belonged. Thus, whoever bestowed a lock of hair on a chosen person, entrusted their lives to them. Certainly, nothing could surpass such testimony of love and trust.
In Victorian times women wove elaborate jewelry from their locks of hair or their recently deceased loved ones hair. Not sure I'd want to wear someone else's hair, but keeping baby curls inside an envelope seems okay to me.
How about you: is keeping locks of hair weird or normal?
Tipper
Appalachia Through My Eyes – A series of photographs from my life in Southern Appalachia.