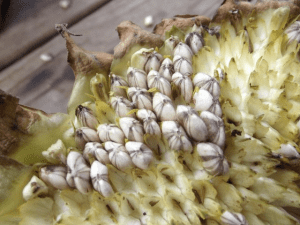 It's been a few years since we grew sunflowers but I hope to remedy that next summer. One of The Deer Hunter's Friends, who lives in Wehutty down close to the TN line, grows dandy sunflowers and this year he gave us several of the giant flowers.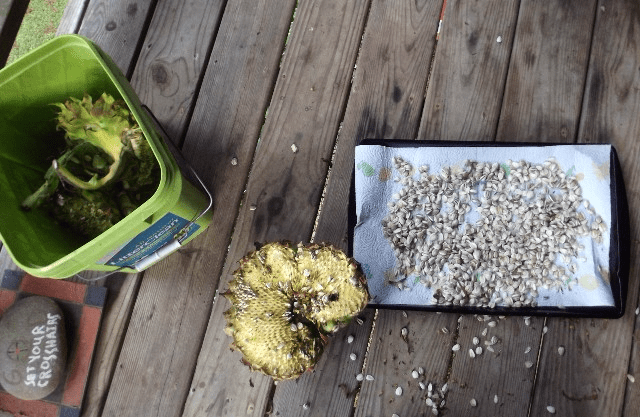 I tried to share the flowers with the chickens, but they didn't seem too impressed. One cool afternoon, I set on the front porch and harvested sunflower seeds from the rest of the flower heads. I let the seeds continue to dry for a week or so spread out on a baking pan.
Now to roast the seeds. A quick google offered many different instructions for roasting fresh sunflower seeds. Most sites suggested soaking the seeds overnight in salt water. I was after immediate gratification so I went with this recipe.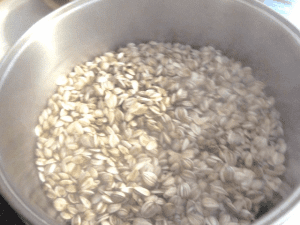 I had 3 cups of sunflower seeds so I tripled the recipe. I placed the seeds and 6 tablespoons salt into a pot of about 3 quarts of water; brought the mixture to a simmer and let it simmer for about 20 minutes.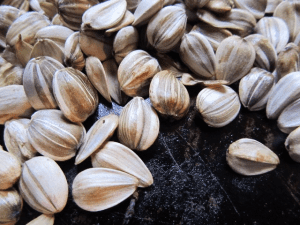 Next I drained the seeds and spread them out on a baking sheet which I had coated with a very small amount of olive oil; I roasted the seeds @ 400 degrees. The recipe said to roast them for 15 to 20 minutes, but mine took longer than that. Since the seeds are wet they sort of steam in the beginning of the roasting process. I stirred the seeds around every once in a while to help the water evaporate. Once the water was mostly gone I had to keep a very close eye on the seeds to keep them from burning.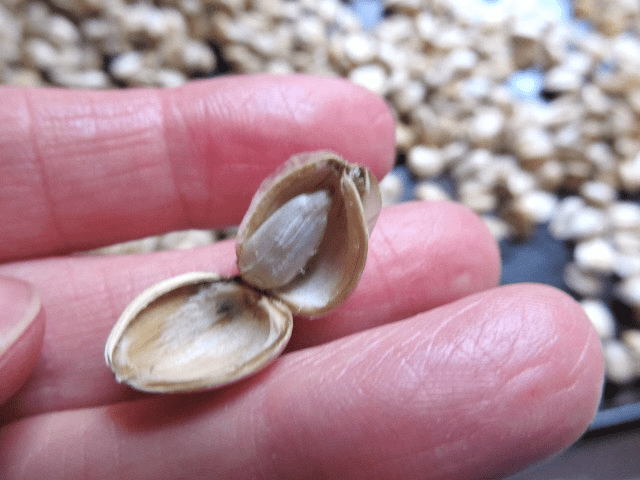 The roasted sunflower seeds were very tasty. They had a much richer nuttier taste than store bought ones. The process of harvesting the seeds and then roasting them took some time. But knowing The Deer Hunter's friend grew them, I roasted them, and we all ate them gave me a good feeling.
Tipper